The effects of getting older with CF
With the great strides being taken in treatment for cystic fibrosis, we're looking at the impact of growing older, so that everyone with CF is able to live a long and full life. We're funding vital research to tackle existing health priorities and to better understand and prevent any age-related CF complications that may develop. 
UK Cystic Fibrosis Conference
At our flagship research conference, the UK Cystic Fibrosis Conference, we heard about the latest Trust-funded research looking at treating the causes of CF and improving the way the symptoms are managed.  
For example, we heard presentations on ways to develop medicines for everyone with CF that don't target the CF protein directly. We also heard about research to detect the early signs of CF-related diabetes (CFRD) which in the future may change how CFRD is treated.  
Our first Research Impact Report was launched at the conference. It explains the difference our research funding has made since we launched our first research strategy in 2013. In the report we shared some examples of the differences that Trust-funded research is making; for example, our research has provided evidence to reduce cross-infection from non-tuberculosis mycobacterium (NTM) lung infections in CF clinics, and has also shown the effect of newborn screening on long-term care. 
CF and cancer 
As it can take so much time for research to become a treatment reality, it is important that we're thinking ahead and anticipating potential new and emerging health priorities for people with cystic fibrosis.  
While we celebrate the fact that many people with CF are now living longer and healthier lives, we don't want to become complacent about what getting older could look like.  
Accessing national and global registries means that we can identify trends and emerging issues quickly and act on the data. In the last five years, evidence has started to emerge in the US CF Registry that people with CF are at an increased risk of developing gastrointestinal (GI) cancer, specifically bowel cancer.  
These early studies reported that more people with CF than they expected are developing GI cancers and at an earlier than average age – in their 40s, compared to the average age of the general population who develop it in their 70s.  
Results from the CF studies so far have also found that the cancer rates are higher in people with CF post-transplant. 
Professor Daniel Peckham, Director of the Adult CF Centre in Leeds, explains: "As the number of people living with CF is growing, and people are now living longer, more cases of cancer are likely to occur. We don't know at the moment the exact figures, but we are beginning to collect this data to give us a more accurate and very specific cancer-related picture. In collaboration with the Cystic Fibrosis Trust, we are analysing the national cancer registry data and will be reporting the results later this year. Therefore, we hope we can answer these important questions very soon." 
You can read a more about what we know about cancer and CF in an interview with Professor Peckham.
What is the Trust doing about CF and cancer? 
Alongside registry-based studies, scientists and clinicians are working together to understand why people with CF may be at an increased risk of developing cancer on a cellular level, and what could be done to reduce the risk. The Trust has already played an active role in bringing together a wide range of researchers to begin these discussions by holding a workshop to agree which research areas to focus on to make most progress. In January, we began funding a Strategic Research Centre (SRC) proposal led by Professor Stephen Renshaw. Using £750,000, four-year SRC funding from the Trust Professor Renshaw and a new international, multidisciplinary team of researchers formed at the workshop will investigate why people with CF are at a higher risk than expected of developing cancer. 
"It is only in the last three to four years that researchers in my group have been working on cystic fibrosis. In that time, we have identified a link between the faulty CF protein and abnormal processes in cells," says Professor Renshaw, Sir Arthur Hall Professor of Medicine at the University of Sheffield Medical School. "The changes we detected could explain on a cellular level why people with CF might be at an increased risk of developing GI-tract cancers. We have brought together a team of experts who could help us answer this question from lots of different angles and put a proposal together. We are really excited about delivering this work for the benefit of people with cystic fibrosis." 
Preventing GI cancer in people with cystic fibrosis 
Within the SRC, Professor Renshaw and colleagues will gather more evidence on whether or how disruption to the normal workings of the CFTR protein might directly or indirectly lead to the development of cancer. Towards the end of their SRC programme, they will test whether existing drugs (licensed for other indications) can be used to block abnormal cell processes caused by CFTR mutations and thus reduce these cancer-causing effects in people with cystic fibrosis. This research will hopefully lead to a greater understanding of the role the faulty CF protein plays in GI cancer and may explain why there are higher than expected numbers of people with CF developing cancer. 
Last year, the Trust was contacted by Janine, whose son had recently died of GI tract cancer. She was keen to raise awareness of cancer and CF, and was pleased to hear of our research plans.  
"My son Alan had CF, and died of GI tract cancer in January 2020. His wish was that no one else should have to go through what he did. When I heard about the research into CF and cancer, I was so excited that it was being taken seriously. It will help achieve his wish. Knowing this research is underway gives me peace and comfort and hope for the future." 
For people like Janine, it is important that we fund research in this area now, to help us do as much as we can to prevent and treat cancer in people with CF in the future.  
We won't stop until everyone with CF is able to live a long and full life.  
Understandably this information might be concerning and can raise questions, but we wanted to remind you that you are not alone and we are here for you if you need to talk. 
You can call our helpline on 0300 373 1000 or 020 3795 2184, Monday to Friday, 10am to 4pm or email us at helpline@cysticfibrosis.org.uk.  
---
Cystic fibrosis (CF) is a genetic condition which causes sticky mucus to build up in the lungs and digestive system. It affects more than 10,600 people in the UK. One in 25 of us carries the faulty gene that causes it, usually without knowing.
If you're struggling with any aspect of cystic fibrosis, we're here to help. Contact our Helpline for support, a listening ear or just someone to talk to.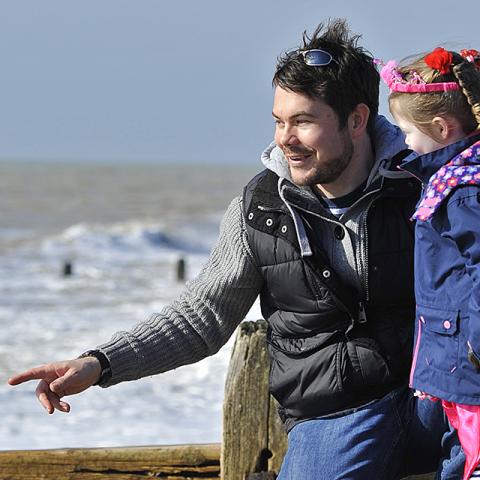 Our newsletter
Sign up to our e-newsletter for the latest news on what the Trust and its supporters are doing