The heart of the community is named the Pride of Britain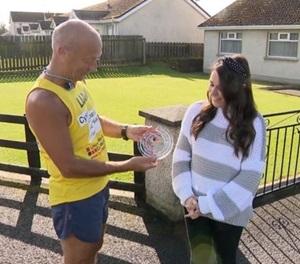 Thanks to new treatments, better care and understanding of the condition, a prognosis for a baby born with CF today is much better than it was years ago – a time Liam remembers all too well, after his daughter Rachel was diagnosed with CF in 1992.
"Looking into it back then and finding out that the life expectancy was around 16 years of age, it was like a death in the family," says Liam. "It was a total devastation.
"We really didn't know that much about cystic fibrosis. It was hard at the start – learning how to cope with the condition, learning how to do physio, how to open these tiny enzymes and put them into your child's mouth with a bottle… At the time we thought, 'Is this what our lives are going to be now?' But quickly it becomes a way of life.
"I did go through a period of sadness and feeling sorry for myself. My wife, Eleanor, was so strong; I was just depressed. I remember then my brother, an accomplished marathon runner, suggested I do something to raise money. 'What about the marathon?' he said. And that's when it all started."
Going the extra mile
Liam's fundraising feat all started with a team of 45 friends and family running the 1993 Belfast Marathon, raising over £3,000. Shortly after, he joined a local fundraising branch in Sion Mills, where he became Chairperson for a number of years. After the group folded, he and his wife continued to fundraise, holding quiz nights and education talks at local schools and charity nights and concerts in local pubs.
As their fundraising grew, so did their story. Liam's fundraising has inspired people across Northern Ireland, UK and beyond, and he has become a role model and spokesperson for the community. He says: "The support has been phenomenal, especially in my local area. People stop me in the street to tell me they knew nothing about CF until they heard about Rachel and our fundraising and campaigning – now, they follow it intensely, telling me it's a part of their lives now.
"I get phone calls from people who have seen my story on social media, who have a son or daughter of their own with CF, and want to donate their fundraising to my cause, or have me speak at their event. They say they wouldn't be part of this if I hadn't inspired them to do so. It's really humbling."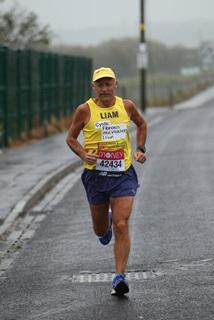 Over the past few years, Liam's fundraising has grown enormously, with Christmas bag-packs raising up to £10,000 between 50 odd volunteers as well as record sales for his UK National Lottery Bonus Ball Raffle, reaching supporters as far as New Zealand and America. In 2016, he was also awarded a British Empire Medal in recognition of his dedicated fundraising work.
All the money he raises Liam puts towards his London Marathon fundraising, which he has taken part in every year since 2010. He has also participated in the Dublin, Newry, New York and Spamount marathons… the latter being a newer event that Liam founded for the virtual 2020 London Marathon, completing 28 and a half laps around his village in an amazing three hours and 44 minutes.
Fighting for everyone with CF
His marathon support was rewarded, when in 2014 Rachel was given Orkambi as part of a clinical trial that transformed the family's life.
"Growing up, all her life we struggled so much to put weight on Rachel. I remember when we were due to go for a check-up, when she was about eight years of age; I was shouting up to her that we were going to be late and she was rushing about saying 'I'm coming now Daddy, I'm coming.' When I went up to see what she was doing, I saw she'd emptied her piggy bank and was filling her pockets full of coins. I asked her what was going on and she replied 'Daddy, I'm scared they'll keep me in the hospital if I haven't put on enough weight.' I remember I just walked up the hallway and burst out crying.
"That was the way it was, but since Rachel started taking Orkambi she's no longer on the borderline of her weight! Before Orkambi, when Rachel would get a cold, it could drag into a chest infection or hospitalisation; now it's gone in about three or four days. She's doing great – she's now a doctor in psychology and she loves her job. I think it was in her destiny to help people. She's a great girl, I'm so proud of her.
"I have often been asked why I fundraise and campaign like mad when Rachel is already on Orkambi. It's because I know how good these life-saving drugs are; I know what they've done for my Rachel, so why would I sit back on my laurels and do nothing when I know there's so many people suffering, so many people who need these drugs so badly? To me, we're all a CF family. I don't just do it for Rachel anymore – I do it for everybody, because I've got to know so many people through my fundraising and campaigning that we are just like a family. It's a battle for everyone with CF, not just my daughter."
Championing access to medicines
Driven by his commitment to the CF community, Liam was at the heart of the campaign for Orkambi to be made available on the NHS in Northern Ireland. He has represented the UK CF community at Westminster and Stormont. Sharing his firsthand experiences, of raising a child with CF and what it's like to rush them off to the hospital repeatedly. This helped Northern Ireland secure a deal, bringing hope to hundreds across the country after a four-year wait.
Liam's campaigning did not stop there. Although 2020 has been turbulent, the announcement of Kaftrio – the first triple-combination therapy to treat the root cause of CF – to be rolled out across the UK was welcomed by all, especially Liam. It seemed only fitting that the week he was named ITV's 'Pride of Britain' coincided with Northern Ireland teenager Zona receiving her first batch of Kaftrio – a family that Liam has supported during his campaign.
"Liam is a great role model… he's our hero," said Zona's mum, Ayrin. "Living with the condition takes its toll, physically and mentally. It takes somebody like Liam who can keep going and manage to keep his spirits up.
"The drugs that he has campaigned for offer Zona a better life. She is excited now and can look to the future. As a parent you hold your breath, scared for your child, but now we are starting to feel confident too. Liam has been a big part of making that happen and we are very grateful for all he has done."
The heart of the CF community
Liam was named the Pride of Britain winner just days after his 59th birthday. "It caught me so unawares, it was such a shock," he said, recalling the moment when an ITV presenter surprised him while out for a run. "The finalists were all so good… I just didn't see it coming! This Pride of Britain Award has been the highlight of everything. It's raised so much awareness across Ireland and the rest of the UK.
"This award is for all my CF family; it's for all the people I've become friends with and all the people that have supported me over the years, because the support I've had is just second-to-none.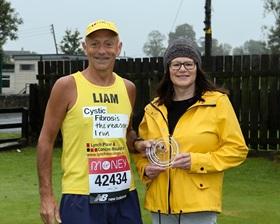 "One person that has been significantly important throughout this whole journey, however, is my wife, Eleanor. Eleanor is the driving force behind all this. At times I say all I have to do is run – it's her who has my bags packed when we head off to my races. Eleanor has every single penny documented from over the years; she posts the money away to the Trust; she does all the paperwork and the hard work. She stood outside the front of the house as I ran the virtual London Marathon last Sunday – 28 and a half laps around the village – while it bucketed with rain and wind. Despite my protesting, she stayed. She's the driving force behind all of this; she does as much as I do, if not more."
Watch the moment that ITV surprised Liam with the Pride of Britain award while he was out for a run.