Tim's journey to the finish line – part 2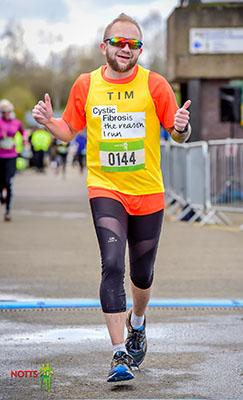 I'm Tim Hughes, I have cystic fibrosis and I WILL be running the London Marathon at the age of 40!
I truly never dreamed I would be able to say that, and certainly until this weekend I didn't believe it could happen. So, what has happened since my last blog way back in October? Firstly, I completed a further half marathon which came in with a similar time of my previous half marathon of under two hours, which showed me the previous half marathon was no fluke.
Creating a plan
Over the new year I devised my training plan. There are many training plans available online, but due to my health and nutritional requirements I needed to come up with something slightly different.  I came up with an 18-week plan (a bit longer than other plans) which also took me up to close to my target mileage. And I spoke to my local clinic to check that it wouldn't set my health back and I got the all clear from them.
Disaster
With the training plan in mind, which I wanted to stick to even if it wasn't rigidly close, I started my running and quickly got up to the half marathon distance. I joined some friends on a nice 16-mile run along the Coventry way which was a bit early in my plan, but it was a comfortable run and I had good fun on my longest ever run. After this run, I foolishly joined some more friends on a Go Karting evening out.
All was going well until I hit the barrier sideways at full speed. It hurt but I carried on. After a couple of days in pain I tried to go for a run and couldn't manage to get out of the street due to pain. I had fractured my ribs! Not the smartest thing to do. I took just under two weeks off from running and then returned back to run a 5k parkrun. The run felt okay but I was in huge pain afterwards, but I did run. Dosed up on painkillers I continued running and gradually started getting back into my training plan. 
Improved results
The following week, whilst still in pain, I completed my quickest ever 5k park run, which showed I had built up some good fitness and strength before the accident. I then completed a 13-mile run, and an 18-mile run the following week.
This week I had my first race in some time, which was also my longest run ever. 20 miles along the south side of Nottingham in the Notts20. It was the big test to see if I really could complete the 26.2 miles of the 2019 Virgin Money London Marathon. Weather conditions on the day were ok but far from perfect with 18 mph winds and the hilly route ensured the runners were exposed at times. I started the run just ahead of the 3:30 pacer and quickly caught up with the 3:15 pacer and eventually pulled ahead and settled for a nice steady comfortable pace. I completed the first 13.1 miles (half marathon distance) in just under two hours, which is my third quickest time. My final time was 3:06:56. So I smashed not only my 3:30 target but the 3:15 target as well.
Lessons learnt
I have learnt a number of valuable lessons during this training. Firstly, don't go Go Karting when training for the biggest set of challenges you have faced. Secondly, I can't afford to slack off from my treatments and medications. And part of that is ensuring that my nutrition is good. One of the reasons that the 20 mile run was so successful is I ensured that I was correctly fuelled and hydrated with extra salt beforehand.
After this period, I am extremely excited for London now. I have a further 6.2 miles to find, 2 miles in training and I hope to get an extra 4-mile lift from the magnificent crowd at London.
Please continue to support my London Marathon challenge by donating to my Just Giving page and follow me on Instagram and Facebook.