Putting the person into personalised medicine
Hundreds of people attended the 2016 UKCFC either in person or online, hearing from researchers, clinicians and prominent voices in the CF community on how the current trend for personalised healthcare is having an impact on care and treatment.
Ed Owen, Chief Executive of the Cystic Fibrosis Trust, took the opportunity to announce our new Clinical Trials Accelerator Platform. This project aims to ensure everyone with cystic fibrosis can get faster access to better treatments by increasing the capacity for vital clinical trials in the UK.
The accelerator is part of the wider vision for the future of cystic fibrosis and Ed set out in his keynote speech how the Trust is making a step-change in our battle to achieve this mission by investing in four transformational programmes to build a personalised future for everyone with cystic fibrosis.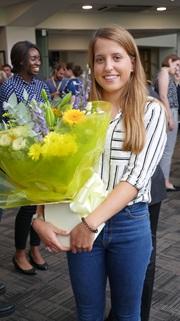 Ed was joined by an impressive line-up of speakers including Benjamin Schwarz, Lecturer at the University of Columbia and illustrator for the New Yorker; Simon Denegri from the National Institute of Health Research; and Lawrence McGinty, former Head Science and Medical Editor at ITN, as well as a wide range of researchers and clinicians specialising in CF care and treatment.
The day before the conference kicked off, we hosted our first ever CF's Got Talent, featuring some of the brightest and best young researchers explaining their work as part of our Strategic Research Centres (SRCs). The presentations were watched live on Facebook by more than 500 people, with viewers able to submit questions and vote for their favourite presentation. 
Madalena Pinto (pictured), a PhD student at University of Lisboa working on the non-CFTR SRC, won the 'best presentation' award for her explanation of 'Anoctamins – identification of novel traffic regulators and their significance to cystic fibrosis'. On receiving the award from our celebrity supporter Roger Black, she said: "I am very grateful for the opportunity to present my work at CF's Got Talent and for receiving the best presentation award. Moreover, meeting brilliant early-career researchers and sharing my work with them was very rewarding. I strongly recommend other students to participate in this event next year!"
The whole conference and CF's got Talent event were streamed for viewers at home, and videos are now available 'on demand' – just log in or create an account to enjoy.