Chris and Michaela: bringing out their personal bests in each other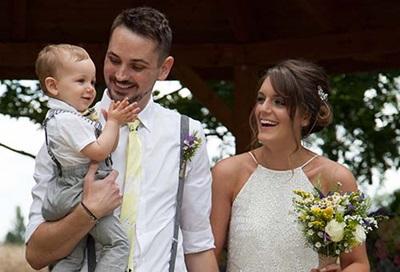 How did you meet?
M: I'd love to tell you a really romantic story, but it was on Tinder.
C: While I was bored in hospital with nothing to do and no one to talk to!
Michaela, when did Chris tell you about his CF?
M: He told me pretty much straight away, before we had even met face to face! I guess I already had an inkling after seeing some photos of him running with the Olympic torch and wearing a Cystic Fibrosis Trust vest for the marathon.
C: I've found it difficult in the past to tell people about it, when I was younger it used to put people off and stuff. But I was talking to Michaela quite a lot before we even met, so I'd told her, and she'd obviously researched it as she had a million questions! I decided that if it bothered someone, then they wouldn't be the right person for me anyway, so there was no harm in telling them and seeing how they reacted. Obviously, Michaela wasn't bothered, and here we are!
You have a two-and-a-half-year-old son, could you tell us what it was like going through the IVF process and what your advice would be for other people?
M: I always knew I wanted children and funnily enough it happened to be one of the first things I asked Chris when he told me about his CF. "Can you still have children?" After moving in together and discussing the operation Chris would need to have and the IVF process, his doctor referred us to the amazing Centre for Life in Newcastle for me to be tested to see if I was a CF gene carrier and it just spiralled from there! Before we knew it, we were expecting our little miracle. The ICSI IVF process was so hard and draining both physically and mentally. Personally, my advice would be to enter the whole process as relaxed as possible, not to stress about the what ifs. We only had one egg that fertilised and thankfully became a successful embryo... but have living proof that it only takes one!
C: We were so lucky that it worked first time, and that our beautiful boy is here, and the best thing that ever happened to us, and now we have a perfect little family. It was unbelievably hard and stressful at times, but we fought through it together, and were there for each other, and it was all worth it in the end. Having a family has also made me better at looking after myself, doing treatments and being more sensible about when to get IVs etc, as there's suddenly other people to worry about and care for, so I have to keep myself healthy in order to do that!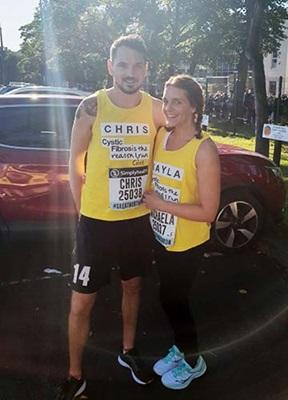 Why did you decide to start fundraising for the Trust?
M: After I met Chris in the April, a couple of months later I decided I wanted to do the Great North Run again and it was a no brainer which charity I would fundraise for. I knew Chris had supported the Trust previously and the amazing work they did.
C: My mum used to volunteer for the Trust when I was younger, and my dad had done a lot of events such as the London Marathon, and abseils and stuff when I was a kid, all to raise money for CF. Obviously it's the closest I could ever be to a charity, so to raise money that could potentially help me and everyone else in the same situation, was an easy choice. I started when I was about 16 or 17 when I first did the junior Great North Run, which I think I've done twice. Since then, I've done the Great North Run three times and the London Marathon for the Trust. I did the Great North Run once last minute, as my friend and his now wife were running for CF, and he came down very ill the night before, so I ended up taking his place on the day of the event, as he was worried they'd been raising money for two people and didn't want to let anyone down!
What was it like taking part in an event together?
M: It was both amazing and terrifying in equal measure! I loved the build up to the day, being able to encourage each other. But as Chris had been on IVs just the week before and still wasn't 100% I was worried how he would manage.
C: We didn't really see much of each other after the start, Michaela had been doing loads of training, and had put so much effort in, I had only just got out of hospital, so my only aim was to make it around in one piece, and I didn't want to slow her down after all the effort she'd put in. So I made sure she didn't wait for me, even though she wanted to. It was amazing to start together though, and to see her at the finish line. It was only because of her that I did it again, as she'd always wanted to do something like this together.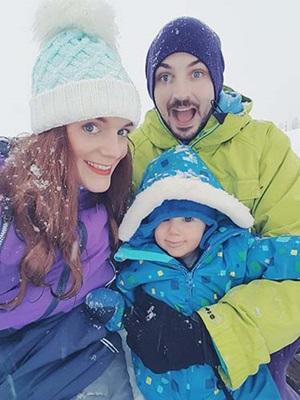 Has training together and supporting each other through the hard times made you stronger as a couple?
M: With a toddler in the mix we didn't always have time to train together, but we did manage a couple of runs and lots of family walks together, which was lovely. It's not easy, having the stress of training for an event like a half marathon on top of illness, work and being parents but it also gave us both goals and something to work towards. Chris is so determined (stubborn!) he sees every challenge and faces it head on. I know I was worried the entire 13.1 miles that he wouldn't make it round when in reality I should have known better than to even question it! Chris is the most inspirational person I have ever met, hands down! He's made me see life from a whole new perspective.
C: I think training helped Michaela escape some of the stress of living with me when I was not very well. I didn't do anywhere near as much training as I should have, and getting ill before hand made it even more difficult. Michaela did amazingly to fit it all in though, and to keep training when she didn't want to. We did do lots of family walks and a few runs together, and it was definitely beneficial to have some encouragement, especially when I was sat on the couch a week before, with my IVs in, and Michaela made me get up and go for a run with her, even though it was the last thing I wanted to do! It's definitely helpful to know you have someone you can always rely on to push you in the right direction. She also makes sure I do exercise to keep myself healthy enough, encourages me to do everything I want to do, and know I can, so I stay as healthy as possible for as long as possible. She definitely stops me feeling sorry for myself!
Find out more about fertility by visiting our starting a family page and exploring our resources. Or, inspired by Chris and Michaela's fundraising feats? Explore all the events on our website and find the ideal one for you!