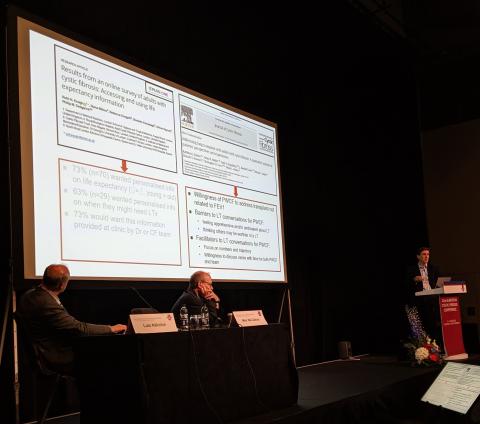 Advancing knowledge
We know that the lungs of people with CF are affected by thick sticky mucus, chronic infection and inflammation. However, researchers don't know how all these things are linked together. During the conference there were a series of talks looking at mucus, how it is made, how its production is affected by CF and the effects that it has on inflammation. A more detailed understanding of how the formation of mucus goes wrong in the lungs of people with CF will help researchers to improve lung clearance in the future.
Pseudomonas aeruginosa is bacteria that infects the lungs of many people with CF, not everyone will be infected with the same strain or sub-species of Pseudomonas. At the conference Professor Winstanley of Liverpool University gave an update on the genetic differences and the evolution of different strains of Pseudomonas. Understanding how Pseudomonas develops could give doctors the opportunity to treat the bug earlier, when it is more responsive to antibiotics. Knowing which strain or 'family' of Pseudomonas different people with CF have can also give important information on effectively managing cross-infection in the clinic.
Plugging the knowledge gaps
There were over 700 presentations given at the conference. Some of these were intended to increase the depth of our knowledge in areas of CF research and others investigated topics where researchers and clinicians know that more information is needed. For example, it is still not clear what causes people with CF to develop CF-related diabetes (CFRD). At the conference we heard an update from researchers working in this area. A better understanding could lead to better management and even preventing CFRD developing at all, if treated for early enough, which is why the Trust is funding a Strategic Research Centre in this area.
In CF, the body's natural defence system goes into overdrive, causing damage to the lung tissue, shortness of breath and people to cough more. As well as looking at ways to treat the cause of the inflammation (for example bacterial infection), researchers would also like to develop drugs to treat the inflammation itself, but currently there are no suitable drugs available. To begin developing this type of treatment, researchers need to identify which parts of our biochemistry to target. Through the poster presentations at the conference, we saw how Trust-supported researchers from across the country are increasing our understanding of how inflammation happens; the first step in the journey to developing treatments.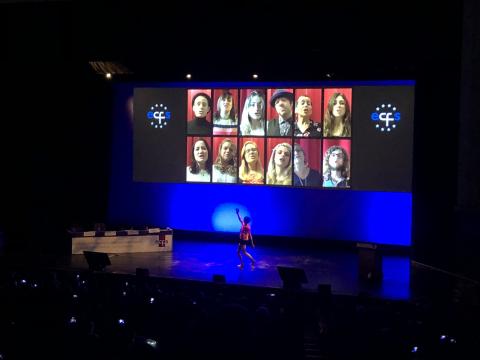 Keeping it relevant
From the opening ceremony, which saw a performance from the talented dancer Thomas Oakley and the virtual CF choir, to a presentation on how the socioeconomic status of people with CF can affect their wellbeing, to discussions about access to medicines in the closing ceremony, the real experiences of people with CF were truly at the heart of the ECFS conference.
Yvonne Prins' comments about how her clinical team could help her improve adherence to her treatments really struck a chord. She said: "Imagine having to explain why you've broken your New Year's Resolutions to someone every four weeks. Ask us about the positives instead, what you can do to help us move up the scale towards complete adherence".
Of course, there was a great deal of discussion about CFTR modulators. This ranged from emerging information on the positive effects of ivacaftor on CF complications such as GI movement and fluidity, to new CFTR modifiers under development. Some of these developments included novel ways to increase CFTR, not addressed by the currently licenced drugs, such as Eloxx Pharmaceuticals' development of drugs to improve 'read through' for nonsense or 'stop' mutations. In these mutations, only part of the CFTR protein is made, as there is a 'stop reading' signal in the wrong place in the gene. There's more information in our mutations animation. Another development we heard about was Enterprise Therapeutics' drug development programme targeting alternative proteins in the lungs. The hope is that their new treatments could work for anyone with CF, irrespective of their genotype.
During her opening address to the conference, Dr Janet Beer, Vice Chancellor of Liverpool University, commented that delegates would find the people of Liverpool in an optimistic mood following Liverpool FC winning the UEFA Champions League the weekend before. To paraphrase Liverpool FC's anthem, after three days of talks we left the conference centre with a full brain and hope in our hearts for a life unlimited for people with cystic fibrosis.
On the Saturday after the ECFS conference closed, the Cystic Fibrosis Trust and CF Europe held a CF Community Afternoon, where eminent researchers attending the conference gave a recap of their highlights of the conference, an update on CFTR modifiers and heard a personal perspective of living with cystic fibrosis.