Cross-infection at events
People with cystic fibrosis should never meet each other, as they carry bacteria within their lungs that could be harmful to each other.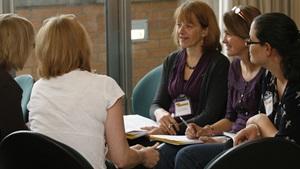 What is cross-infection
For people with cystic fibrosis (CF), cross-infection poses serious health risks - people with CF grow bugs in their lungs which are usually harmless to people who don't have the condition, but can be easily transmitted from one person with CF to another and be very harmful.
Cross-infection at events
Meetings and conferences are places where cross-infection could occur, so even at cystic fibrosis-related events, or events organised by the Cystic Fibrosis Trust, there should only be one person with CF in attendance at a time.
We offer internet forums and platforms to enable people with CF to interact safely, and we live stream events wherever possible. For our UK Cystic Fibrosis Conference we also recorded interviews with some of our key speakers to help bring the event to life for people who were unable to attend.
Download our new cross-infection policy to find out more.
UK Cystic Fibrosis Conference on-demand
Did you know that we live stream our yearly UK Cystic Fibrosis Conference for people who can't attend in person? After the event you can access all of the talks and workshops online just by registering on our website or logging in and then following the link to our on demand section.
Forum
There's something for everyone on our forum. Head on over and start talking about the issues that matter to you!
CF Connect
Whatever challenges you're facing, if you need someone to talk to try our scheme for connecting people with cystic fibrosis.
Find support
There's loads of support available for people with cystic fibrosis and their families, from grants to help with benefits.