Aidan Goundry
Aidan is a 24-year-old West Mercia Police Community Support Officer living in Worcester, who has found that taking on a job role requiring regular physical activity has improved his lung health, stamina and resistance to infections.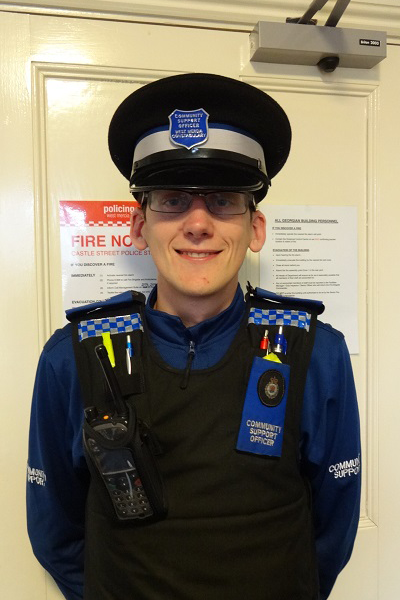 Everyone with cystic fibrosis (CF) is unique, and Aidan's story is an interesting one from the start. Born in Botswana, Aidan was not diagnosed with CF until he was over two years old – doctors in Africa didn't think to test for the disease. This left his mother Rose in a difficult position: "They thought I wasn't feeding him properly – despite the fact that I had two other healthy children!" Rose went as far as taking him to South Africa to investigate the cause of his failure to thrive, but it was only once the family moved back to the UK that a proper diagnosis was made. 
Throughout his childhood Aidan was not especially sporty, but always spent time outdoors with his siblings and cousins playing games and getting into trouble: "I went to hospital a few times but not because of CF: I crashed my bike, dropped a paving stone on my foot, broke an arm in a fall…." – the first time he had to attend hospital for CF was at the age of 14. Rose confirmed this and said CF affected him more in terms of his weight. Aidan reflected on this, saying "I was always being told to eat more, have some chocolate, have something extra – what is a treat for most people wasn't for me." Maintaining weight is the main challenge Aidan has faced throughout his life, although as he has got older he has needed more medical interventions related to his lung health. 
Aidan excelled at hockey during his school years, and he also played the trumpet which he thinks contributed to his relatively trouble-free time relating to his lungs in his younger years. He admits to being a bit of a geek, and his leisure pastime of choice is computer or console gaming rather than a sport or training in the gym. Luckily, as a consequence of his job role, he regularly walks up to nine miles a day. 
All Aidan wanted to be when he was growing up was a policeman, following in the footsteps of his stepdad Paul; "I didn't think I could do it because of CF, but then the role of Police Community Support Officer was created." Community Support Officer is an essential role in modern society, extending the reach of the police force into local communities – in a lot of districts they are the most visible police presence. Aidan's job involves patrolling an area outside Worcester on foot, with occasional use of a car as it is a semi-rural district. The CSO role is less physically demanding than a regular police role: "We don't get 'hands-on' or restrain people for example." On a typical day Aidan will visit several estates and shopping areas on his route, talking to local people, dealing with minor crime and antisocial behaviour, and following-up on cases for colleagues. 
Aidan's day starts at 6am when he does his physiotherapy, followed by breakfast (hot chocolate, pro-cal and a brioche); work starts at 8am. He manages to have several cups of milky tea with biscuits throughout the day.  Luckily his walking route takes him past a few cafes, but unfortunately they are not spaced evenly so he also takes some snacks with him that fit into a pouch on his utility belt. "Appearance is important so it is not an option to carry around a bag of snacks on duty". Lunch is usually back at the station and consists of a ready meal or hot meal from a local shop, sometimes to the envy of colleagues; "If I can catch it I'll eat it; everything can be deep fried, my heart can fend for itself!" he jokes. He needs an intake of 5000 calories a day to maintain his weight, taking into account the amount of walking that he does most days. 
During the afternoon he is out on patrol again, with the early shift seeing him home for dinner by 6pm. Aidan works a pattern of shifts so sometimes finishes work in the late evening. He has found that this shift sometimes means he eats better – but he has always been a morning person so prefers the early shift. 
Aidan's family and social circle is very important to him, and his friends have seen him through some tough times.  A couple of years ago he needed to spend significant periods of time in hospital due to cystic fibrosis, and he is grateful that people remained in contact and included him in things that were going on.  He likes to drink socially but chooses only to do so on days when he is not working, or during holidays – his next is to Vietnam. 
We touched upon the subject of travel insurance – Aidan has travelled to several countries including having six months in the USA as part of a university scheme, by coincidence an arrangement between the University of Worcester in the UK and Worcester State University in Boston, Massachusetts.  He usually keeps his trips to ten days or less and has an annual travel insurance policy that does not cover CF care. Therefore he plans ahead and takes sufficient medication with him. When on the six-month stay in the States he planned a hospital admission in the UK for Spring Break; "I was gutted that I missed out on a trip to Canada, but sacrifices have to be made sometimes." The cost of healthcare in the US necessitated the trip back to Worcester, but he was able to have his port flushed at a relatively small cost throughout his US stay. 
Always a planner, Aidan has often organised hospital visits and stays to coincide with annual leave or school. This hasn't always worked, however. His birthday is in late October and unfortunately his 16th, 18th and 21st birthdays were all spent in hospital and he even had to endure a bronchoscopy on his 22nd birthday. As a result, his family have something special planned for his 25th birthday later his year! 
Aidan is happy now as a CSO, but his early days in the role were not as great. Colleagues had a very limited understanding of cystic fibrosis and rather than voicing concerns about his breathlessness to Aidan himself, or asking him if he was ok, some raised the issue with his line managers. This led to a situation where his capability and reliability were called into question, and not wanting to disappoint his family, he kept his troubles to himself.  His Superintendent, Kevin Purcell, got involved but it took Aidan opening up about CF to resolve the situation. Kevin says; "We had a lot to learn as an organisation.  We needed to understand cystic fibrosis and then find a way forward that worked for Aidan and enabled him to fulfil his duties while also maintaining good health." 
Now, things are much better and recently Aidan was able to pass his probation. One thing the force did was to circulate a brief message to raise awareness of CF among Aidan's colleagues, and he is also happy to talk about it with colleagues. He is now able to get on with the job role without worrying about CF, which has improved his performance. Superintendent Purcell is very keen to use the learning that West Mercia Police have gained by supporting other employers in the future, an offer the Trust will take him up on if any organisations approach us for help. 
Of particular note is that Aidan has not taken a single day of sick leave in the 18 months since he started in the Police Community Support Officer role and he has noticed that he now fights off colds a lot quicker.  In the future Aidan would like to study for an MA, possibly part-time, but for the time being he plans to make the most of life, enjoying his job and plan more trips abroad. What is clear is that through having an active profession, Aidan is able to maintain his health and has increased his physical stamina greatly, without joining a gym or taking up a regular sporting activity. 
From the interviewer:
What is clear from talking to Aidan is that, through having an active profession, he has been able to maintain his health and increase his physical stamina greatly, without joining a gym or taking up a regular sporting activity. It's a great example of how an activity like walking can be incorporated into a healthy lifestyle and have a huge impact on wellbeing.

Paul Rymer