Body image and cystic fibrosis

Cystic fibrosis is an extremely variable condition. With improving treatments and care, some people are able to undertake great physical challenges, maintain ideal weight and muscle tone and may look quite unaffected by CF. But this isn't the case for everyone; many people experience a range of physical and psychological difficulties, which can then have a significant impact on their body image and self-esteem.
Our free body image booklet explores body image issues people with CF have told us they can struggle with, and provides support and advice for dealing with these issues. It also explores some of the positive aspects of body image and cystic fibrosis.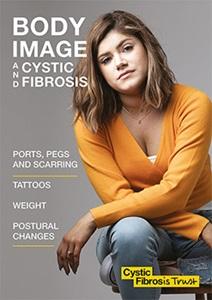 Our resources are free to download and order, but we would be very grateful if you would consider making a donation to help us continue our important work.
Order the booklet
Use our digital form to order the body image booklet direct to your door. You can also order printed copies of the booklet by contacting our helpline. Email helpline@cysticfibrosis.org.uk or call 0300 373 1000.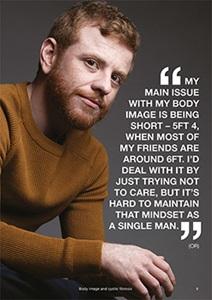 About the booklet
All the images in this booklet are of people with cystic fibrosis. We worked with photographer Sophie Mayanne to produce empowering images of people with cystic fibrosis who have experienced issues with their body image. The booklet itself, which we designed to look like a magazine, is intended to challenge the accepted ideas of beauty that we see day-to-day in print and online. Find out more about the people in the project by watching our video.
The first version of this booklet was written in 2010 by two people with cystic fibrosis, Jacqueline Didsbury, and her friend Emily Thackray who died in 2014. Jacqueline and Emily interviewed people with CF, whose quotes are featured in the current booklet and represented by their age and gender. New quotes are marked with initials, and all of the individuals featured in the images in the booklet have their quotes featured in the booklet.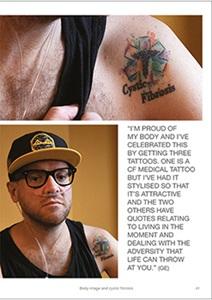 What is covered in the body image booklet?
Body shape and weight
Eating behaviours and disorders
Posture
Muscle mass
Bloating
Finger clubbing
Coughing
Sweating
Incontinence
Looking young
Ports, PEGs and scarring
Tattoos
Deteriorating health
Transplants
Further support
If you are struggling with body image issues, please speak to your CF team to ask how they could support you. You can also contact the Cystic Fibrosis Trust's helpline on 0300 373 1000 or at helpline@cysticfibrosis.org.uk.
Here are a few websites that could help to support you:
Research we fund
We fund research to tackle some of the most pressing issues in CF today. Find out how your donations are making a difference.
What is CF?
Cystic fibrosis, or CF, affects the lungs, digestive system and other organs, and there are over 10,600 people living with it in the UK.
Contact us
Get in touch with us to speak to someone on our Helpline, find out about an event or speak to our Press Team.