SmartCareCF
The rapid advance of smart technology and big data presents an extraordinary opportunity to improve and transform the lives of those with cystic fibrosis.
SmartCareCF
Every person with cystic fibrosis should have the tools they need to manage their health and treatments in a way that enables them to stay healthy while living as fully and independently as possible.
- Sammie Read
Cystic fibrosis is at the forefront of ground-breaking research into technology and its use in healthcare. The digital revolution is offering people with CF new ways to transform their lives beyond the focus of new drugs.
SmartCareCF is exploring how new technologies, used appropriately, could simplify communication, streamline care, and give people with cystic fibrosis greater control over their health.
We are working together with people with cystic fibrosis, their families and their clinical teams on this flagship project to explore technological innovations with huge potential.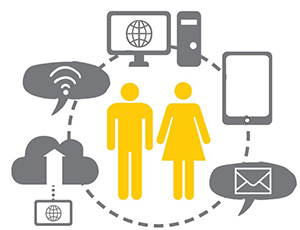 There are four key areas to SmartCareCF:
1. Identifying technology - We're working with people with CF and CF centre teams to identify key areas for improvement in care. We are then engaging with the technology industry to highlight potential opportunities for advancements in CF care.
2. Testing technology solutions - With our support, CF centres are conducting studies around the country to test the feasibility and effectiveness of these solutions.
3. Analysing results – Once trial results are gathered, we are helping to ensure that they are carefully and accurately reviewed to ensure that the solutions created meet the requirements of people living with cystic fibrosis.
4. Deploying effective solutions - Finally, we are supporting commissioners to fund the creation of viable solutions. Our goal: to produce SmartCareCF solutions that can be used in routine practice.
Research we fund
The Trust is committed to funding and supporting cutting-edge research to find new and better treatments for cystic fibrosis.
SmartCareCF
We want to work with people with cystic fibrosis and clinical teams to evaluate the technology that could streamline care and management and give people information about their health.
Clinical Trials Accelerator Platform
Find out how we're increasing access to clinical trials for people with CF across the UK.