Sixty Five Roses Club Patrons
Find out more about our Sixty Five Roses Club Patrons and why they have chosen to join our fight for a life unlimited by cystic fibrosis (CF).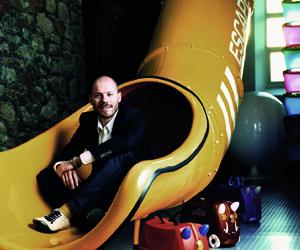 Rob Law MBE, creator of the Trunki children's suitcase and Club Patron 
"I first came up with the concept for a ride-on suitcase when I was still at university in 1997 and, despite being turned down by the infamous dragons on BBC's Dragon's Den, among other setbacks, I never let anything hold me back. Over two million Trunkis have been sold worldwide and our products are now on sale in 97 countries.
"What many people don't know about me is that I have cystic fibrosis. I have never let it stand in the way of achieving my goals in life, from being a director of my own company, to living and working abroad, raising a family and meeting my own health and fitness challenges.
"Many of my peers are entrepreneurs and one thing we all share is overcoming a significant obstacle in life. People with cystic fibrosis and their carers find fighting off the next infection a daily challenge, but in doing so it gives us the drive and determination not to be beaten.
"We are learning so much more about cystic fibrosis every year, and people living with CF are living longer than ever before. Becoming a dad, something I never thought could happen to me, has made me realise how important it is to ensure this progress continues and gathers momentum.
"The Cystic Fibrosis Trust is the only national charity tackling every aspect of CF, from research to clinical care, campaigning to providing information and support. We need your help to make the dream of a life unlimited by cystic fibrosis a reality.
"Please pledge your support today and join a growing number of supporters on this transformational journey."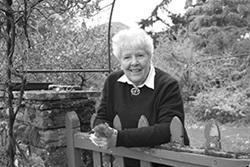 Dame Barbara Kelly CBE DL LLD, Club Patron
 "I have been a supporter of the Cystic Fibrosis Trust since its early days, having sadly lost two sons to cystic fibrosis: Hamish, shortly after his birth in 1961 and Jonathan in 1985 at the age of nearly 20. In those days very little was known about cystic fibrosis and I am so pleased that the knowledge, research and clinical care for people living with CF and their families has improved so much.
"Last year I was thrilled to be asked to be a Patron of the Sixty Five Roses Club Scotland and I am delighted to support the charity and to represent the Scottish CF community. When Hamish and Jony were born, the prognosis was dire and there was little support for families like us particularly in rural Scotland. It is wonderful that things are different now but we still have a long way to go before we can say that CF has been beaten.
"I would like to ask you to join with me and other members and become part of the Sixty Five Roses Club Scotland and together we can help create a life unlimited by cystic fibrosis a reality."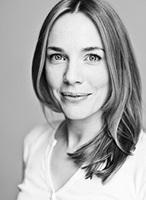 Laura Main, Club Celebrity Patron
Laura is a Scottish singer and actress, best known for her role as Shelagh Turner in the BBC1 Drama 'Call the Midwife'.
"I became aware of the Cystic Fibrosis Trust through my colleague and friend Jenny Agutter. Jenny works tirelessly for the charity and through supporting her at various events I have begun to understand what living with CF means and I have been moved by the amazing stories I have heard and the inspirational people I have met.
"I was delighted to be asked to be a Patron of the Sixty Five Roses Club Scotland and I know that with your generous support the Cystic Fibrosis Trust will continue to make a huge difference."
Research we fund
We fund research to tackle some of the most pressing issues in CF today. Find out how your donations are making a difference.
What is CF?
Cystic fibrosis, or CF, affects the lungs, digestive system and other organs, and there are over 10,600 people living with it in the UK.
Contact us
Get in touch with us to speak to someone on our Helpline, find out about an event or speak to our Press Team.