Jeans for Genes Day
We all love denim and we all want a life unlimited for people with cystic fibrosis (CF). On Friday 21 September, combine the two and organise your very own Jeans for Genes fundraiser at your school or workplace – half the proceeds will go to the Cystic Fibrosis Trust!*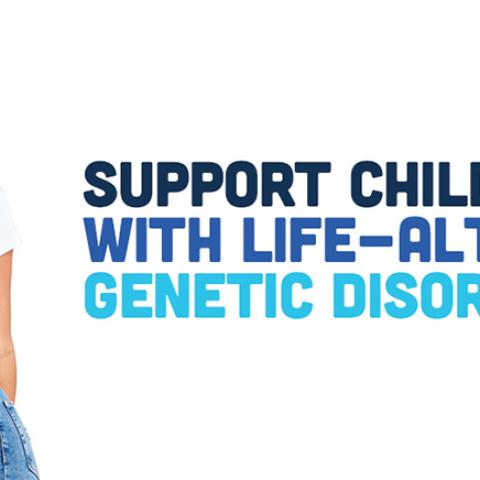 On Friday 21 September, schools and offices across the country will be donning the denim for Jeans for Genes Day 2018, and we want you to get involved.
*Jeans for Genes Day is a fundraising initiative organised by the UK Genetic Disorders Partnership Network. We are a member of the Partnership, so if you organise for your school or workplace to hold a Jeans for Genes day and they haven't held one in the last three years, the Cystic Fibrosis Trust  receives 50% of the money raised. It's as simple as that!
How to register and raise money for the Trust
To ensure that the Cystic Fibrosis Trust receives 50% of the money you raise, just follow these three simple instructions:
1. Click on the 'order your pack today' button below
2. Fill in the free fundraising pack form on the Jeans for Genes website
3. For the question "Are you affiliated to one of our partners?" choose the Cystic Fibrosis Trust from the drop-down menu
This ensures that the Trust and Jeans for Genes know that you want to fundraise for us! And don't forget to send us an email to let us know that you're holding an event so that our fundraising team can support you.
Once you've collected those fantastic funds, just send them back to Jeans for Genes and they'll take it from there.
What is Jeans for Genes Day?
Jeans for Genes Day is the annual fundraising campaign for Genetic Disorders UK, the national charity that supports individuals and families affected by a genetic disorder, including cystic fibrosis. Money raised on Jeans for Genes Day goes towards providing grants to organisations for projects that aim to transform the lives of children with genetic disorders.
Our film 'The rest is up to me,' where we asked six young people what it's like living with cystic fibrosis, was produced with the help of Jeans for Genes Day funds. The charity also funded our Rosie and Seb books, which are written for children whose parents have cystic fibrosis.
Head over to the Jeans for Genes website to find fundraising tips to help make your day as inspiring as possible.
Get involved
There are so many ways you can join the fight for a life unlimited. Choose from joining or organising an event, supporting one of our campaigns, fundraising, volunteering and much more!
In your area
Your local Community Development and Fundraising team will help you to organise your event and direct you to your local branch. You can even find out what events are happening in your area.
Life Unlimited
Find out about our mission to create a brighter future where everyone with cystic fibrosis can live long and healthy lives, unlimited by the condition.