"A life unlimited to me means looking forward to a future with my husband and my son": Gillian's CF Week story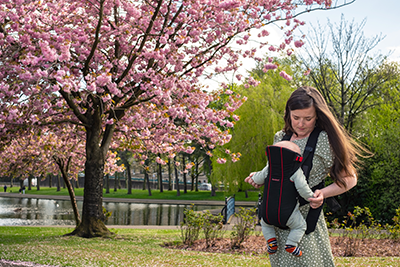 I was diagnosed with cystic fibrosis (CF) as a baby. I had some recurrent chest infections through my childhood, but I largely stayed well until my mid-to-late twenties, and then my health started to decline quite rapidly, particularly after a bout of seasonal flu. 
I was very lucky to be included on the Kaftrio clinical trial. My health was deteriorating very quickly. I was struggling to even walk up the stairs in my own house. I wasn't really making any plans other than getting through each day. I was having discussions with my consultant about next steps and thinking about lung transplant.  
But within just a few hours of taking the first tablet, I could feel my chest improving and after two weeks my lung function had jumped over 30%. I could take deep breaths, I could walk long distances, I could sleep through the night – something which I hadn't done for years and years. I felt really hopeful for the future. 
CF is now very much at the back of my mind, not the forefront. The burden of care was massive before, with physio, nebulisers, IVs and frequent inpatient stays. Now I take my Kaftrio every day and do very little else in terms of treatment. I haven't had IVs since starting Kaftrio, and I haven't had another chest infection either. CF used to dominate my life – now sometimes I have to remember I still have it, which is amazing. 
My husband and I had chosen that we weren't going to start a family if I wasn't going to be here for all of that, but when I had the really dramatic response to Kaftrio, that wee seed of thought came back. When you're on a clinical trial, you're not allowed to conceive or you'd be removed from the trial. But when Kaftrio was approved in 2020, I think about an hour later I was on the phone to my consultant to ask his thoughts about whether we could try for a family. And then in December 2021, Frederick arrived. 
I really enjoyed being pregnant. I felt so healthy, and the pregnancy was brilliant. We had a lot of support from my CF centre in Glasgow. In the future, I would love for Frederick to maybe have a sibling, if we're lucky enough for that to happen for us. I'm so happy to be able to be present and enjoy the fact that we'll be there to watch him growing up. A life unlimited to me means looking forward to a future with my husband and my son, and not worrying too much about how my health will decline or how it will impact me day to day. 
---
Cystic fibrosis (CF) is a genetic condition which causes sticky mucus to build up in the lungs and digestive system. It affects more than 10,800 people in the UK. One in 25 of us carries the faulty gene that causes it, usually without knowing. 
Since 1964, we've supported people with cystic fibrosis to live longer, healthier lives - and we won't stop until everyone can live without limits imposed by CF. 
Will you unite with us this CF Week?
Wear Yellow Day
Unite with us on Friday 17 June, Wear Yellow and raise money to help create a brighter future for people living with cystic fibrosis. Dress up, bake or take on a physical challenge, but whatever you do… do it in yellow!