Celebrating International Clinical Trials Day
The importance of clinical trials 
Clinical trials are a fundamental part of the process to bring new medicines and changes in treatment into routine healthcare. All new treatments are investigated in carefully designed research studies, or clinical trials, which involve trial participants who give consent to take part and who potentially receive the new treatment during the trial. 
Clinical trials typically involve carefully monitoring the health of people taking part, to make sure that the new treatment is having the desired effect and is safe. The treatment being investigated could be a new medication like a CFTR modulator, or it could be a change in treatment process – for example, investigating the effect of stopping certain medications to reduce the treatment burden, like in the CF STORM trial. 
Why take part in research? 
Having the opportunity to have that medicine at such an early age, it really has made a difference.
- Leanne, parent of a child with CF 
Taking part in research can be a rewarding experience for many. In some instances, it offers people the chance to access potentially life-changing new treatments early. In the case of treatments for cystic fibrosis, clinical trials in recent years have given many people early access to CFTR modulators like Kaftrio™ before they were approved for use within the NHS.  
It was a great way to be able to monitor my health more closely.
- Candice, who has CF
Of course, taking part in a trial doesn't guarantee that you will receive a new medication, and as we know, not all new medications being investigated work for everyone. But there can be other benefits of taking part too. For some people, being a part of a research study is helpful to find out more about their health, since the extra clinic visits and additional investigations can provide a richer insight into what's going on with their health.  
On a wider level, volunteering to take part in research is not only potentially helping yourself, but it can benefit others in the community too, by allowing new treatments to be thoroughly investigated for safety and effectiveness and helping to bring positive changes to routine clinical care. 
There's something empowering about making some positive decisions for yourself and feeling that you're part of a potential solution.
- Stuart, who has CF 
How can I find out more about CF clinical trials? 
The Trust's Trials Accelerator launched in 2017 and over the last 5 years has significantly helped bring new trial opportunities to the UK CF community. Earlier this year, we celebrated reaching a major milestone of over 1,000 people with cystic fibrosis having been recruited to a Trials Accelerator-supported clinical trial since the programme launched. 
For more information on the Trials Accelerator and how you can get involved in clinical trials, visit our Clinical Trials Hub or you can browse open upcoming clinical trials on our CF Trials Tracker.
---
Cystic fibrosis (CF) is a genetic condition which causes sticky mucus to build up in the lungs and digestive system. It affects more than 10,800 people in the UK. One in 25 of us carries the faulty gene that causes it, usually without knowing.
Since 1964, we've supported people with cystic fibrosis to live longer, healthier lives -and we won't stop until everyone can live without limits imposed by CF.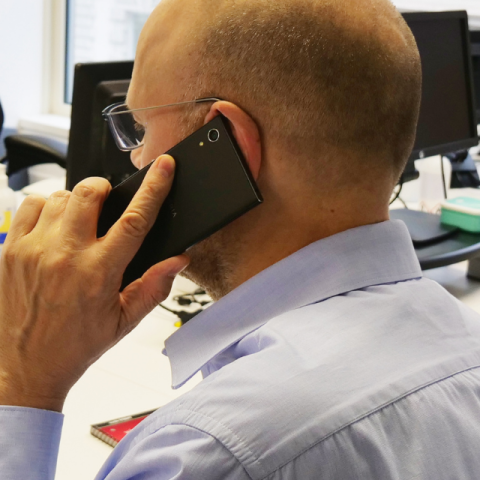 Here to help
Our friendly Helpline team are here if you need us - whether you're looking for information, support, or just someone to talk to