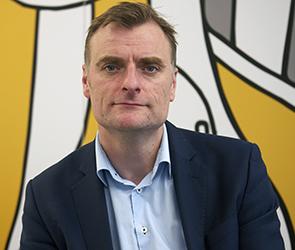 The Chief Executive of the Cystic Fibrosis Trust, Ed Owen, has announced he is to step down from his position later this year after more than four years at the helm.
During this time, the Trust has undergone major changes including the introduction of a bold, new impact-focused research strategy, the development of the CF Registry and an improvement in quality of the information and support provided to people with cystic fibrosis and their families.
Ed has helped launch innovative, long-term programmes such as SmartCareCF to test the viability of remote health monitoring technology for people with cystic fibrosis and new plans to increase access to clinical trials in the UK are due to be announced soon.
The Trust has established an improved brand and website since Ed took over in 2012, and is communicating more effectively both with its supporters and with wider audiences to increase influence and public awareness of cystic fibrosis.
Announcing his decision, Ed said: "It has been a tremendous privilege to lead the Cystic Fibrosis Trust over the last four years. I have been fortunate to have worked alongside excellent colleagues, and I have been blown away by the extraordinary support, dedication and commitment of the wider CF supporter community.
"But, most of all, I am extremely proud to have been given the opportunity to meet, engage with and learn from those living with cystic fibrosis themselves. Putting the voice and interests of people with cystic fibrosis first has helped ensure the Trust is delivering greater impact across all its activities – and will ensure we seize the great opportunities to transform lives in the future too."
Ed joined the Cystic Fibrosis Trust as its interim Chief Executive in May 2012 and was appointed permanently in November of that year. He will leave the Trust at the end of October.
Trust Chairman George Jenkins said: "Ed has helped the Trust over the last four years to significantly increase our impact on the lives of people with cystic fibrosis.
"I know he will continue to be a strong supporter of the Trust for many years to come, and he leaves with our very real thanks for what he has achieved and best wishes for the future."
The recruitment for Ed's successor will be an open process and will begin soon.