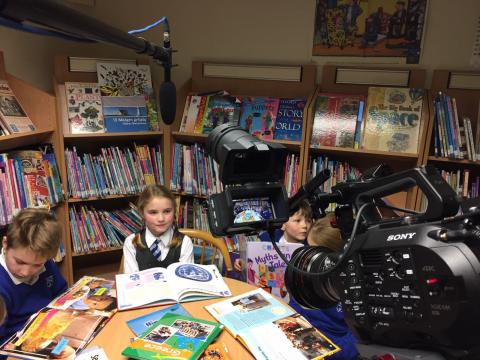 How did we do it?
During the development of our preschool and primary school information pack we spoke with families about what other information we could provide to support children of primary school age. Many parents with younger children found that the Trust's video 'Getting Nosey about CF with Oli and Nush' was a valuable resource. However, parents with older primary school-aged children reported a sense of realisation of difference at this age and felt that 'something' was needed to reduce feelings of isolation.
Through generous funding from Simplyhealth we were able to work with Starstruck Media to develop a concept that would empower children to talk about CF from their point of view. We asked a group of children with CF to think about what their condition means to them, and drawing from their wonderful ideas we developed a script. It was great to hear so many original, interesting ideas.
Behind the scenes
The amount of work that went on behind the scenes was phenomenal.
For 'A for antibiotics' we were filming Callum, who had to take a bottle of pills out of a black rucksack. Because of the animated bugs coming out of the bag we had to make sure that it stayed still and Leah, who was working on the shoot with us, had to hold the bag still with her feet out of shot so that it didn't fall over.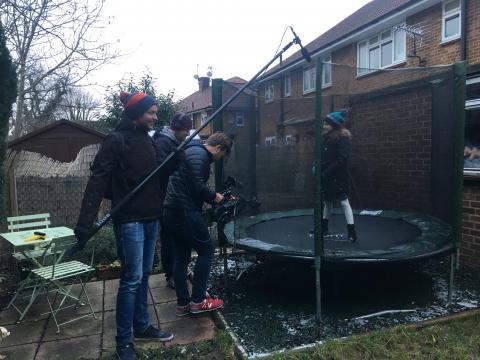 Probably the strangest thing we had to do during the shoot was defrost a trampoline in Hackney at 7am. It was London's first snow of the year and the trampoline was covered in a layer of frozen snow, which made bouncing a bit tricky!
The children were absolutely amazing - learning lines and taking direction is hard work, but they took it all on board and achieved great performances. Sometimes other things meant we had to do a lot of re-takes, like a plane flying overhead or a school bell going off. But the kids were very patient.
We hope this film will show children that they're not alone in dealing with CF and that it will also be a useful educational tool for their school friends and teachers.
Look out for an article in the next issue of CF Life where we talk about how we work closely with the CF community to develop resources like our primary and pre-school pack and the A-Z video.
Take a look at more behind the scenes photos from our 'A-Z of cystic fibrosis' video!