Meet Eileen: CF social worker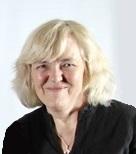 Can you tell us a bit about where you work?
I am an integral part of the regional Adult CF team at Kings College Hospital. Our patients come from London, Kent, East and West Sussex, and parts of south east England. There is another CF social worker at Kings, Rebecca Parker. While I've worked in CF for nine years, I've specialised in chronic illness for many more.
How do you work with people with CF?
We visit people in their homes if need be, and also have a lot of contact on the phone with patients already known to us. Because the patients are often in touch with the team via clinic or in-patient stays, we take those opportunities to meet them if need be. We try to see all inpatients, who often have concerns about the effect of CF on their day to day life, and worries about the future.
What kind of areas do you help with?
In times of change or difficulty, we work with patients to support them to manage their lives or to get the help they need. The difficulty might be with an employer or university, it might be caused by a time of change in their health or life circumstances, it could be the result of financial difficulties or disability benefits, or they might just need support day to day. We make phone calls, write letters of advocacy, refer to local helping agencies and attend meetings or appointments with the patient. Some patients have higher need for a variety of reasons, and we are then more intensively involved, working alongside them with other agencies. We also make sure the wider family have access to support if they need it, and do our best to assist bereaved families.
Can you tell us a bit about how you work with our Welfare and Rights Advisor, Sangeeta Enright?
We have good broad knowledge of the Welfare benefits system and Personal Independence Payment (PIP), but find Sangeeta's help invaluable if something very technical or out of the ordinary comes along. She is especially helpful when so many patients face the worry of migration from DLA to PIP, and issues around Universal Credit. We write letters of support on behalf of the team for most patients going through this process, and support them through Mandatory Reconsideration and Tribunal if need be.
And what about other CF professionals?
The work we do in caring for patients is very much a team approach. We attend multi-disciplinary meetings, and are in regular contact with all members of the Adult CF team here at Kings. We also meet other CF social workers and psychologists from around the country every year for training, and occasionally attend International Conferences.
The Cystic Fibrosis Trust offers a number of support services to help you if times are tough, from our helpline, which offers practical support and information, to our grants and other financial support, like emergency grants and health and wellbeing grants. Find out more.