CF's Got Talent 2019... from across the world!
CF's Got Talent! is a science communication competition run by the Cystic Fibrosis Trust and involving people from the cystic fibrosis (CF) community. It's a fantastic opportunity to find out more about the research we've been funding in our Strategic Research Centre's (SRCs) – thanks to your support – from the perspective of the early-career researchers working on them. The five finalists are based all over the world, from London to Leeds and Hungary to Australia, reflecting our approach to fund the best research teams wherever they are.  
Returning for its fourth year, CF's Got Talent! will take place at the 2019 UK Cystic Fibrosis Conference (UKCFC) next week. Each researcher will present their Trust-funded work in an engaging, jargon-free way for the delegates at the conference and for those watching at home via Facebook live. 
​Why are we doing it?
We invest millions of pounds in research into beating CF every year and we want to share the hope that it brings. We started CF's Got Talent! to break down the barriers for those who stand to benefit from Trust-funded research as well as those from a non-science background. 
So, in the spirit of breaking down barriers, we had a Q&A with the finalists from this year's event, to get to know them a bit more and find out what really goes on in the lab…
Who's who?
(pictured below from left to right)
Helen Douglas, a third-year PhD student from University College London 
Dr Heledd Jarosz-Griffiths, a post-doctoral researcher based at Leeds University
Bartholomew Harvey, a third-year PhD student at University of Bristol
Attila Ébert, a third-year PhD student working at Szeged University, Hungary
Dr Anh Thu Dang, a post-doctoral research assistant based at Monash University, Melbourne
Getting to know our finalists
What is the best bit about doing your research?
HD: The best bit for me is working with children, young people and families in such a positive way. … I am working with families to try and make progress in physiotherapy recommendations and reduce treatment burden, which the families want to see and are so passionate to be involved with – it's very inspiring.
HJG: When you make a new discovery. These discoveries often come when you work together as a team, discussing new ideas and planning new experiments. Alone we have no impact, but together we can make things happen.
What is the worst bit about doing your research?
AÉ: Failing is a common phenomenon in research. Things rarely work at first, even though you are precise and prepared.
ATD: Keeping motivated when something doesn't work out as expected. 
BH: For about six months I had to repeatedly make chemical solutions inside a walk-in fridge to keep it cold. I used to wear a hoodie under my lab coat on those days. 
What are your most excited about in CF research?
BH: That moment when everything is working perfectly and you see CFTR, the protein that causes CF, opening and closing on the computer monitor in real time. It's absolutely amazing.
HJG: I'm most excited about new therapies for CF, particularly triple therapy. Our patients in Leeds are about to start treatment. I hope these new therapies will break down barriers and improve the lives of many people living with CF.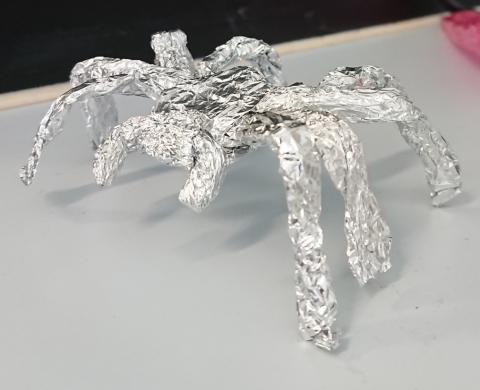 What's the quirkiest part of your research?
AÉ: There are times when we named some of our lab mice after each other and colleagues. It may have brought us luck, but scientifically we haven't proven it so far.
BH: Occasionally we use tin foil for light sensitive chemicals. Once we've used the tin foil, we scrunch them up and turn them into animal shapes.
What is your coffee-time treat when you take a break from the lab?
BH: Our lab is infamous for getting a sneaky bag of doughnuts from the local supermarket. It is one of the reasons I am on a diet.
HD: We're not fussy! We did fill the office freezer box with ice creams in the recent heat wave which really helped to keep us cool and productive.
AÉ: I rarely have treats or coffee, but when I do I have a popular Hungarian cold sweet which is basically a bar of cottage cheese covered in thin chocolate.
What would you normally be doing at 5pm on a Thursday (i.e. when CF's Got Talent! is on)
HJG: I would be cycling home from work along the canal tow path, trying not to get nipped by swans, looking out for herons diving for fish… It's my favourite part of the day – a great time to reflect and think ... it's when I come up with my best ideas!
ATD: I will be heading to Melbourne Central Business District (CBD) for my three-hour Japanese course. 
HD: While I'd love to say that I would be being active, I would probably be at my desk working with our team checking the data is coming in, asking participants questionnaires, writing some more words for my thesis, or talking with colleagues about yet more questions we want to find the answers to.
What would wining CF's Got Talent mean to you?
HD: Winning CF's Got Talent would be brilliant validation of the work that we are doing and encouragement that we are managing to communicate and share our findings in a meaningful and accessible way.
HJG: I would be over the moon to win CF's Got Talent. Making science simple and easy to understand is a real challenge for most scientists. I hope the Spice Girls analogy I'm using in my presentation make it happen for me!
ATD: Having the opportunity to present our research is already kind of winning. However, winning would mean that I'm able to interest people in my work which would be a huge motivation boost. 
BH: It would mean my research matters to people in the CF community. That feeling would be… indescribably wonderful.
AÉ: Winning CF's Got Talent would be a great honour. It would be very positive feedback for my work and a huge motivation.
CF's Got Talent will be taking place at the 2019 UKCFC in London on 26 September 2019. The event will be live-streamed on Facebook from 4.45pm, so make sure you are tuned in!