Diwali at the Trust: How our staff are celebrating this year
Sangeeta's story
On 12 November this year, Hindus, Sikhs, and Jains all over the world will celebrate Diwali, the festival of lights. I was brought up in a Sikh household, and Diwali was special when I was growing up. Sikhs celebrate the victory of their sixth guru, Guru Hargobind, from Emperor Jahangir, who had imprisoned him. For Sikhs it is called Bandi Chhorh Divas and coincides with Diwali. It's a story of a struggle for freedom and for all of us, a victory of good over evil.
Diwali can be celebrated in many ways, but most commonly, it involves lighting lamps or candles (diyas), dressing up in traditional clothes, seeing family and friends, eating together, and praying. We also sometimes let off small fireworks. It can be bright and noisy!
When I was a child, I always loved Diwali. It made me feel safe and calm, as my mum used to gather us around and read from the holy book. We would have a small night light in each window and have incense burning. It was fun if we got together with family; we always did sparklers together and ate nice food. And all the elders would give the children cash gifts!
When I had my own family, we carried on the tradition in a low-key way for a few years when my children were very young. They loved seeing their grandparents and celebrating, which made me realise that having a reason to get together when we lived so far apart was what made it so special.
I work as a Welfare and Rights Advisor at Cystic Fibrosis Trust. I work closely with my colleagues on the Helpline, and this time of year, as the weather gets colder and the days shorter, we have an increase in calls from people with CF who are struggling with their finances and health. It's important for us to think of people with CF in all types of backgrounds and work together for all people with CF worldwide to live a life unlimited. I love seeing how families come together at this time of year and spread joy and happiness. Giving to charity and fundraising for people with CF helps us reflect and remember those who are struggling and may not find it easy to celebrate.
In cities like Bradford and Leicester, Diwali is celebrated on a large scale, but for me, it's become an opportunity to think of my family, the traditions that I was brought up around and take time to reflect and feel grateful for those experiences. This year, I'll be lighting candles, thinking of family and friends who are far away, and giving to charity. I hope that the important symbols of Diwali; of light over dark and good over evil, help to share these messages of peace and hope all over the world.
Izzie's story 
Diwali celebrations
I'm half-Indian, so I celebrate Diwali with my mum's side of the family. We tend to keep things pretty low-key, but growing up, we always came together to eat nice food, spend time with each other and let off fireworks in the garden. Because it's the festival of light, we also make sure to light diyas (oil lamps) and candles. And as children, we would also get to light sparklers outside.
The best part of the holiday is coming together and spending lots of quality time with family, as it doesn't happen as often now most of us are all grown up and busy. The food is always amazing as well. Puri, a type of deep-fried, puffy bread, is my favourite thing to have at Diwali, and it tastes perfect alongside all the curry and daal we cook.
Sweet treats are also a big part of Diwali, and my favourites are halwa (which is made from semolina), Jalebi and mango Kulfi (Indian-style ice cream).
My cystic fibrosis
I have cystic fibrosis and also work at the Trust as Content Lead. I was diagnosed with CF when I was six years old, and ever since, I've been on a strict four-hour long medical routine to help maintain my health. This includes over 30 tablets, physiotherapy, inhaled nebs, inhalers and nasal sprays. I also suffer from chronic pancreatitis and osteoporosis.
Having to manage my CF and pancreatitis during the festive period can be a challenge, especially as all my favourite foods tend to trigger pain flare-ups in my pancreas. This means I have to be careful as I don't want to end up in severe pain when I want to be out and about, celebrating with my loved ones.
Fundraising is so important to me and my family, not only because I have CF but also because many of my friends with CF (who I contact virtually) cannot access the new modulator therapies. I want to keep raising funds so that more medications and treatments are available for people unable to benefit from Kaftrio.
Sana's story
Growing up in India, Diwali has always been a major festival for me. It's something that I've always celebrated with a lot of love and light. For as long as I can remember, we've done the same things every year. We spend the morning drawing a rangoli, which is a colourful drawing of flowers/diyas, at the entrance of our house and putting up flowers around the house. In Hindu mythology, Diwali  signifies the victory of good over evil and light over darkness, which is why, in the evening, we light up the house with diyas and little fairy lights. Then, later in the evening, we dress up for the prayer ceremony and spend the rest of the night bursting firecrackers.  
When I was younger, the rangoli and firecrackers were all I cared about, but now, Diwali brings a lot of warmth and comfort to me. It's a day that allows me to connect with my family and come together despite our physical distance. 
I am a Marketing and Communications intern here at Cystic Fibrosis Trust, and I believe that fundraising plays an incredibly important role in aiding the CF community. Seeing the developments in CF research and care due to the unrelenting passion to raise awareness of the CF community only fuels my belief in its power. The recent leaps of progress in CF medication in the form of modulator therapy is proof that every bit counts. I hope that these developments continue to occur and that everyone with CF is able to live a life unlimited. 
---
Past research, funded by our incredible supporters, has transformed the lives for many in our community. We've made some incredible progress. But we still have so much to do.
Will you join us this festive season to help fund more CF research and help change more lives?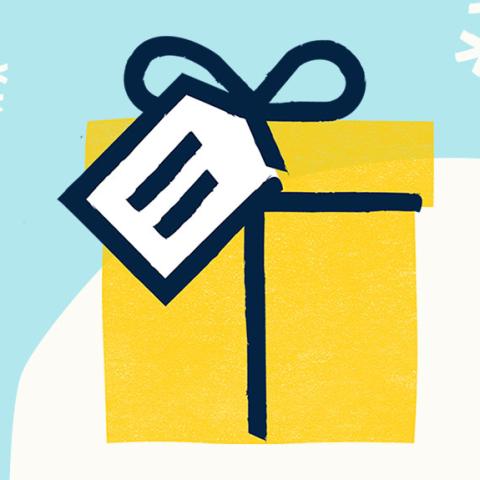 Will you help give the CF community the biggest gift of all?
A small gift from you could lead to the biggest gift of all – lives unlimited by CF