"We celebrate Diwali with a lot of love – and diyas and rangolis!" We speak with Swapnali, mum to two-year-old Aslesha, who has CF.
Aslesha and her CF journey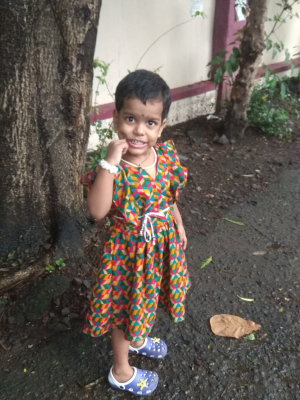 Aslesha was born on 11 January 2021. She's two years and nine months old. For the first two months of her life, we couldn't understand what was wrong because she just wouldn't gain weight. She was around 3kgs for up to five months, and she also had an upset stomach for one month straight. Since it was summertime, in March and April in India, she used to get really sweaty, and she was also incredibly salty. So I got her checked up by a lot of doctors in Pune, a city in Maharashtra, India, which is where I was then, and she was tested for a lot of things like diabetes and thyroid, but no one could figure out what was wrong.
Then, on 4  May, she succumbed to a fit, and we had to rush her to a doctor. Thankfully,  she recovered quickly, and the doctor asked us to take her home. However, we insisted that he admit her to find out why this had happened, and so she was admitted to the NICU. Sometime later, she had a fit again, so the doctor conducted a lot of tests, but all of it came back normal. Then, five days after she was discharged, she got bronchitis and was admitted again for a week.
Finally, we decided to move to Mumbai, where her paediatrician got her genetically tested, and we finally had a diagnosis of cystic fibrosis. She was seven months old. Her sweat test also confirmed it. She was then put on medication by the CF specialist we took her to. Now, she's doing well and is pretty healthy. Her height and weight are also normal.
Knowledge of CF
I had no idea about CF! When she was one month old, I had Googled it because of how salty she was. All my search results would point towards CF, but I was like, "That can't be possible; how can she have CF?" No one in our family has it, so I didn't think it could be possible.
Celebrating Diwali
We celebrate Diwali with a lot of love. We burn diyas (oil lamps), make rangolis (colourful drawings), and wear new clothes over the three to four days that the festival lasts. We do a puja, which is a prayer ceremony, for Goddess Laxmi, which happens in the evening. We also decorate our entire house with lights and diyas! Usually, my Mum and Dad and some relatives visit us for Diwali. They're all aware of Aslesha's CF, so if anyone is unwell, they know not to come over. The year before last was her first Diwali with us, so the three of us celebrated it together. However, we didn't do anything exciting last year because she was sick.
Since she's quite young right now, she can't eat all the exciting food that's made on Diwali, irrespective of her CF.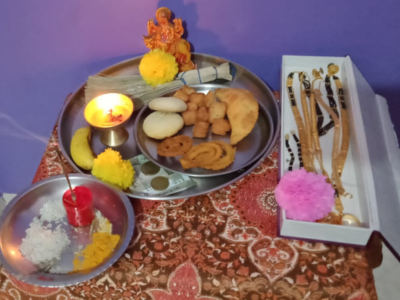 I make her a variety of puréed food, though, which she eats well. We also don't make a lot of sweets because my husband is diabetic, but I do make savoury snacks even though Aslesha can't eat them. Diwali also allows us to spend lots of quality time with each other and come together as a family. I'm sure that as Aslesha grows older, we will be able to do more during the festival, like burst firecrackers! Mumbai is always lit up and beautiful during this time, and Aslesha loves looking at the lights around the city.
Raising awareness
I had looked CF up on YouTube one time to get more information about it, and I saw that lots of people, especially in India, didn't know what it is. No one knows about what should be done to look after someone with CF. Then I received a message from someone asking about it, and it was really hard to explain. So, I thought I should start an account ( @asle_sha11_cf ) to help other Indians learn about it and also receive help from other people dealing with CF. I thought it was a good way to spread awareness and show other people what CF is like. Especially because Aslesha looks okay from the outside, so no one understands what the issue is.
Advice for other families
I was very tense when I found out that my daughter has CF. I was depressed and worried about what the future holds for her. Later, I did a lot of research on my own and learned a lot about what CF really is. That made me realise that I have to do whatever it takes to keep her as healthy as possible and look after her to the best of my ability so she can overcome her disease. So that's what I'd say to other families as well, that look after them because that's all you can do.
Hopes for Aslesha's future
I just hope that she's happy and well-educated and her CF doesn't stop her from standing on her own two feet and being independent. I also pray that she has access to all sorts of medicines for her CF. India doesn't have access to the groundbreaking medicines being released in the West yet, so I hope that they become available to her soon.
---
Past research, funded by our incredible supporters, has transformed the lives for many in our community. We've made some incredible progress. But we still have so much to do.
Will you join us this festive season to help fund more CF research and help change more lives?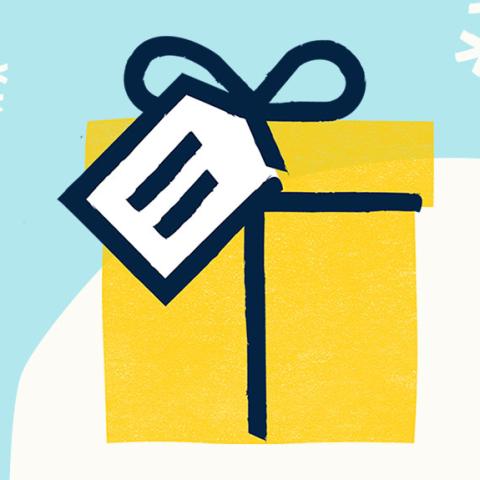 Will you help give the CF community the biggest gift of all?
A small gift from you could lead to the biggest gift of all – lives unlimited by CF