Don't take it for granted
The deadline for health and wellbeing grants, which are worth around £250–350 each and have previously been used to purchase exercise equipment and other health-related items, is 19 April 2016. 
 
Applications are assessed every two months by an expert panel, with over £63,000 awarded in the last 12 months as part of the Trust's commitment to supporting people with cystic fibrosis to live life to the full.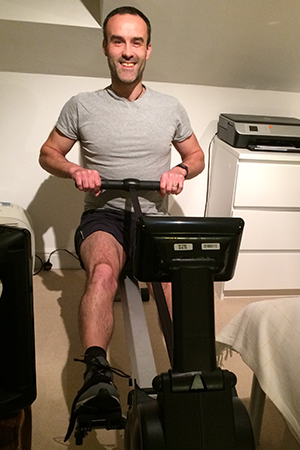 One person who has benefitted from a grant is Steve. Following the birth of his son in 2014, Steve was finding it more difficult to find the time to do as much exercise as he had been used to doing, and his lung function started to drop drastically. He had been working hard on getting out running, but with winter approaching he was concerned that he wouldn't be able to keep this up, so he successfully contacted us to see if we could help him with a grant for a new rowing machine. 
Steve, pictured, said: "Without the rowing machine, I would have been so inactive over the winter. I've now used 'The Beast' half a dozen times and I'm really starting to feel the benefits of having it. My physiotherapy is noticeably different after I've had a row. Thank you to the Cystic Fibrosis Trust for giving me the opportunity to give my health a boost with this new rower." 
Find out more about Steve's grant and how it helped him boost his health, or find out more about the grants and how to apply.
The Trust provides a range of welfare grants to meet the added costs CF can bring. The Trust also provides holiday grants to help people with cystic fibrosis with the costs associated with going on holiday. It has recently made some changes to how these are awarded – find out more or apply for a holiday grant. For further information on how much the Trust awarded as grants for people with cystic fibrosis last year, take a look at page 14 of the 2014/15 Impact Report.