When you were appointed CEO back in 2012, what did you hope to achieve? Did you think you'd be here almost five years later?
I started at a time when the Trust had lost some of its confidence and 'mojo' – and my aim was to re-establish a clear purpose for the organisation, bring new skills and energy to our work and increase our impact on the lives of people with cystic fibrosis (CF). Fundamental to that was to recognise that CF is not just a clinical issue, but a life issue that affects people in many ways, often personal to them as individuals. So putting people with CF themselves at the heart of everything we do is essential – to listen and engage more with those directly affected by the condition and ensure their voice and insight drive all aspects of our work. That has driven our Life Unlimited plans and the ambitious programmes we are driving forward. There is a great deal more to do but I am very proud of the progress we have made on this.
I always felt this was a four- to five-year job. There was a lot that needed doing – a new research strategy, work to develop the UK CF Registry, the relocation of the Trust's head office, a new brand to create and new ways of engaging our community just to name a few! But I think there are risks in someone like me staying in the role too long. It's important that organisations like ours have new blood, new ideas and new perspectives, and I leave knowing the Trust is in great shape to harness the opportunities that exist to improve and transform the lives of people with cystic fibrosis.
What have you enjoyed most in your time with the Trust?
That's an easy question – it has been working with the CF community itself. The commitment and dedication of those directly affected by CF is unique, and it's this united community voice that is the Trust's greatest asset in winning change. Some people describe the CF community as a family and there's some truth in that; I have never tired of meeting people with CF, their families and supporters, listening to their stories and their hopes. These stories are extraordinarily powerful, and the Trust has worked hard to create new ways of sharing these personal insights and stories with wider audiences to build new influence and support. This is so important for the future!
What is the most memorable event from your time with the Trust?
There have been many memorable moments. One of the first issues I dealt with after taking the job in 2012 was to develop the campaign to ensure Kalydeco was made available to eligible people with cystic fibrosis. This was a big moment because this was clearly a breakthrough drug, and even though only 5% of the CF population would directly benefit it was the first ever therapy to tackle the basic genetic defect and opened up the possibility of transformational change for all people with cystic fibrosis. As a result of the clear voice of the CF community working as one, we got the right result in 2013.
What do you think are the biggest differences between the world of CF in 2012 and the world of CF in 2016?
In simple numbers terms, we are a bigger population. Here in the UK, the CF population has grown by about 10% in just the time I have been CEO because of increased survival rates – that's about 1,000 more people. But perhaps the biggest change I have witnessed is how we as a community see the future. The pipeline of new 'gene-modifying' therapies has changed our perspective. In 2012, there was hope, yes. But now there is clear and hard-headed understanding that new precision therapies can help lead a transformation in the lives of people with CF over the next decade. This is an extraordinary opportunity and change cannot come soon enough. Yet, as our continuing fight to ensure Orkambi is made available demonstrates, change will not just fall into our laps without a struggle.
In the last four or five years, our CF community has become more active, more engaged and more determined than ever, with fantastic CF advocates and ambassadors making their voices heard. This is an essential part of creating change, and social media and a growing adult population are helping to amplify that community voice.
What are you most proud of from your time as CEO?
I am immensely proud of my time at the Trust and I have been lucky to have worked with some exceptional people both inside and outside the organisation. Developing and delivering a new research strategy and seeing the world-class teams we are now funding in key areas of work like Pseudomonas, NTM, exercise regimes and CF-related diabetes is enormously important.  Also, the investment in and the development of the UK CF Registry to ensure it is best placed to fully drive future research and improvements in care, and to enable people with CF to see their own personal data to empower them, are big changes that will see long-term benefits to our community.
But perhaps the proudest thing is that we have helped make the Trust relevant again to large parts of our community who I think felt disengaged and probably somewhat disillusioned with us some years ago. We exist for all parts of the CF community and I think we have made good progress in ensuring that all our work – from the research we fund to the information and advice we provide properly reflects that. 
What was the most challenging aspect of your role?
The most difficult part is dealing with bereavement. For all the changes in new therapies and increase in life expectancy, too many young people are dying because of CF and the personal impact on families and friends is terrible. Over the last four-and-a-half years, I have spoken to countless parents who have lost children to cystic fibrosis. I cannot imagine the depth of grief they must feel but it has made me even more determined to ensure we beat this cruel condition for good. 
What would you say to David Ramsden when he takes up the reins in December?
I am delighted with David's appointment; it shows the ambition of the Trust to make a real difference. He will inevitably bring a different style and approach in some areas, and that's a good thing. He will take charge as we move forward on delivering our ambitious flagship programmes such as the creation of a new Clinical Trials Accelerator Platform to boost access to drug and other trials across the UK, and I am sure he will do a great job.
The main point I would make for anyone doing this job is to continue to put people with CF at the heart of everything the Trust does. Keeping that basic principle centre-stage will increase our impact, improve our engagement and interaction with the CF community and help ensure, ultimately, that we continue to benefit the people we exist for.
Finally, I hope David enjoys it. It's a great job and one that can make a real difference.
What advice would you give yourself if you could go back five years?
Where do I start? Probably lots of things! My main reflection is that we must always be bold and ambitious. Sometimes it's difficult because it often means challenging existing culture and practice. But change internally and externally is essential in a rapidly changing world, and we must continually adapt to seize new opportunities and combat new challenges.
At the UK CF Conference this year we asked people from all areas of the CF community about the future - what do you think life with CF in the UK will look like in 10 years' time?
I genuinely believe that there is the potential over the next decade to move cystic fibrosis from a chronic life-shortening condition to one that will continue to require ongoing treatment and management but no longer impacts on life expectancy. This is a key part of our Life Unlimited ambitions, to reduce the impact of CF on those affected.
It's an ambitious aim but the pipeline of transformative therapies is very strong and, if we can find ways of accelerating these developments and ensuring they get to people who need them as soon as possible, then it will make a massive difference. There is also a great deal of work to develop more effective drugs that combat infection and other resulting issues.
But the issue is not just about new drugs, and that's why we are driving other areas of transformation that empower people with CF to take greater control of their lives. Our investment in SmartCareCF to harness new digital technology to provide better information and data to people with CF themselves should make a big difference, and help to address the real challenges facing us and the NHS that come with providing top-quality clinical care to an ever-increasing CF population over the coming years.
What's next for Ed Owen?
As a parent of a child with CF myself, I will continue to be an active member of the CF community. I also hope to continue to work in areas that support the interests of people with CF, such as accelerating drug development and enhancing the voice of all those with long-term health conditions. There is an extraordinary revolution going on in genomics, data and personalised healthcare, and I want to ensure that we realise the full benefits of that.
I will also continue to be very interested in politics. I come from a political background, and the seismic changes that come from Brexit as well as the wider changes in the UK and overseas will be an area of deep interest.
I want to take this opportunity to thank everyone in the CF community, from people with CF and their families to the wonderful fundraisers we rely on, for the support and generosity you have shown to me and, more importantly to the Trust, over the last five years. Ours is a great cause and, by staying united and focussed, I know we can change the world of cystic fibrosis. Keep working hard, never give up, and we will reach our goals!
Goodbye and good luck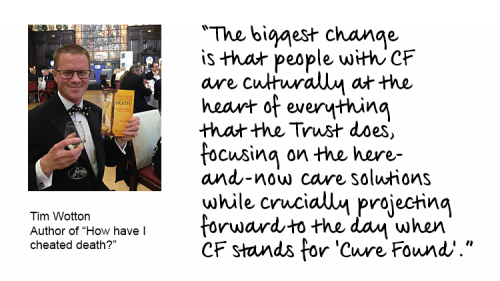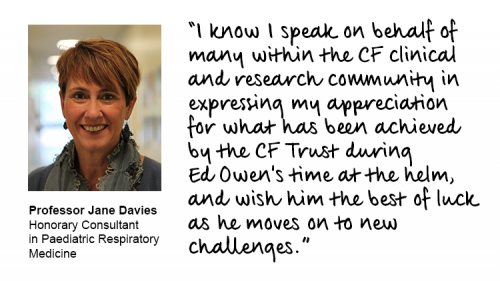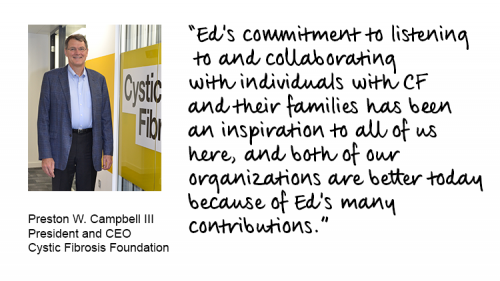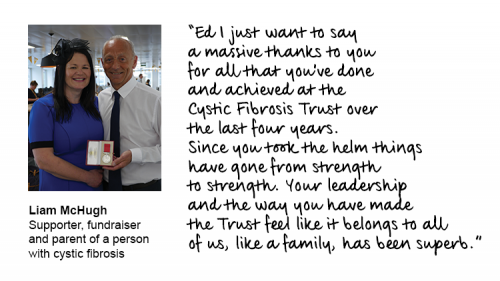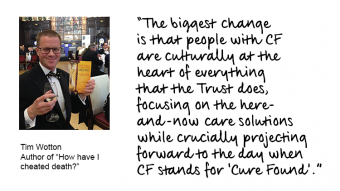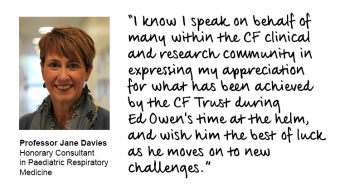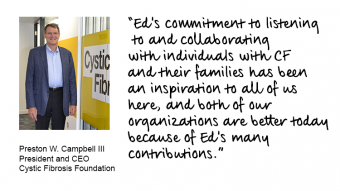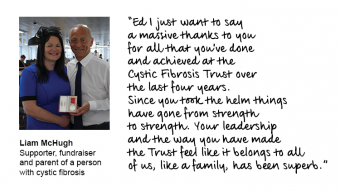 Messages for Ed
Friends and colleagues pay tribute to Ed's time at the helm of the Cystic Fibrosis Trust and reflect on what's been achieved over the last five years.