Orkambi: we mean business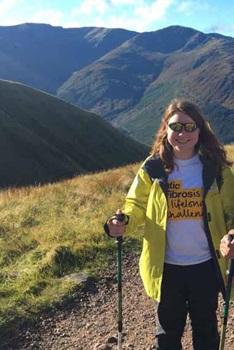 Almost a month into my role as Public Affairs Officer for Wales at the Trust, now seems like a good time to reflect on the whirlwind of introductions to our Stopping the Clock campaign and, more importantly, our campaigners, I have had over the last few weeks.
The realities of the Orkambi debate
I was thrust into preparations for the Parliamentary event held at Westminster, which began with looking at a list of names who would soon share their stories with me and expose me to the realities of everyday life for their children or relatives who need a future in which precision medicines are available to them. Knowing the cystic fibrosis (CF) community as I do – I've worked for the Trust for three-and-a-half years in various roles – I was struck, but not surprised, by the passion and determination each and every one of you showed me in your willingness to fight for access to Orkambi.
I have seen a real desire to push for change from those affected by CF, but a real lack of action from all sides of the debate, as demonstrated by the disappointing response from Richard Pengelly, Department of Health Permanent Secretary, to our cross-party letter signed by 66 MLAs in Northern Ireland.
A disappointing response
Richard Pengelly responded to our letter on 11 December emphasising the original response and guidance from the National Institute for Health and Care Excellence (NICE), which did not recommend the drug for use and suggested that they might reconsider the drug before the scheduled review in 2019, should more evidence of its effectiveness and value for money be provided.
Whilst I think acknowledgement of our letter and the Orkambi debate is a positive step, it is simply not good enough that an agreement has still not been reached for those who have been waiting for over two years for this transformational treatment. But while we are disappointed, we are also more determined than ever to keep applying pressure, and this is a positive foundation to build on our campaign and lobby the Northern Ireland government once it has been reformed.
Why this all started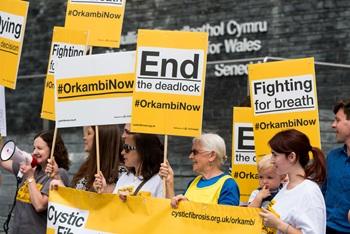 It is easy to be swept up in the action. The excitement when we feel like someone is finally listening to us and the disappointment when we realise they haven't quite understood us yet, can leave us feeling like we're not getting anywhere, but the reality is we're somewhere in between the two, and we have had small victories along the way. If we take a step back, I don't have to look far to remember why this all started.
Jen Banks has a son, Lorcán, who has CF, and like many parents she has embarked on this journey for access to medicines. On reading the response from Richard Pengelly to our letter, she reflected: "Once again, decisions have come down to the benefits not outweighing the cost of Orkambi. The potential benefits are to add years onto higher-quality lives and lift the burden of living with cystic fibrosis for Lorcán, and thousands of others across the UK. We simply don't have the time to prolong this agonising wait any further. Don't be kicking your heels, we need Orkambi now."
Frustration and hope in equal measures sums up how I imagine most of us feel.
We mean business
Jen begins one of her blogs with this: "Today I am thinking about people power, each of us so small and yet what a difference we can make!" This is something we should always remember and this strength and determination from our community has already been evidenced by the fact that we recently smashed our 5,000-signature target for the e-petition for access to Orkambi in Wales, tabled by our supporter and Jen's friend, Rhian Barrance. I am delighted with this and it is a testament to everyone who pulled together to make this happen. It's shown clearly that we mean business.
Sign the petition
If you are yet to sign it, anyone in the UK can do so up until midday on 31 December 2017, and the more signatures we get, the larger our impact can be. I hope we can look forward to a better outcome in Wales that reflects this achievement.
We know that other precision medicines for CF are just around the corner and we need to make sure they emerge in a system that enables them to become available faster to those who need them. We won't stop until we achieve this – we're only just getting started.
Join our fight for a life unlimited by becoming a campaign partner – you can do as much or as little as you like, whether it's sending a letter, meeting your local politician or signing a petition.