How Emma took on Great Strides, her way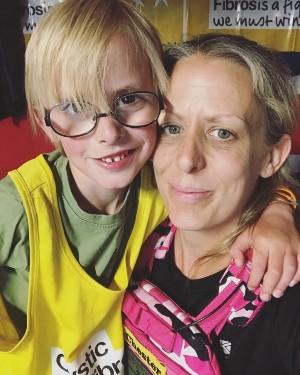 In 2017, together with a group of CF mums I met online, we decided to take part in a fundraiser and chose Great Strides. We had spoken every day for months but hadn't all met, so this was a great opportunity to raise funds and also to get to know each other better. We formed the 'Together for their Tomorrows' team and raised around £18,000. I enjoyed it so much that I took on the challenge again in 2018 with my husband and a family friend.
For the physical events, I did as much training as time allowed including some longer walks up to about 18 miles. For my virtual event, this proved more difficult as we were shielding. However, in the lead up to my event in May, I entered a competition at work called 'Go the distance'. It was a timed distance challenge where you had one hour a day to run or walk as far as you could either outside or on a treadmill. Luckily, I managed to train every day on the treadmill and clocked up around seven miles a day for the duration of that competition. We have a garage gym, so I was also able to do a mixture of training sessions to keep my fitness going.
Breaking down the distance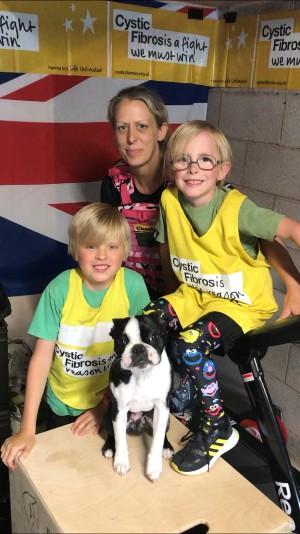 When it came to my virtual Great Strides event, I decided I was going to go for the first 10 miles without stopping, after which I would break it down into five-mile legs. This worked well and gave me time to eat and go to the toilet etc, and to give my knees a break from the treadmill. For an extra challenge, I completed the walk wearing a weighted vest – I'm in the army so am used to doing marches carrying 15kg.
As with all endurance events I always worry that I might not make it – you never know when an injury will creep in or you simply run out of steam – so completing it was incredible! It was made even more special by the fact my children were there to see it, especially Chester who is older now and had more of an understanding of what I was doing. I was proud of myself; treadmills are dull at the best of times! Knowing that the physical events weren't going ahead, I was bothered at the amount of money that wouldn't be raised, and that helped motivate me too.
Practice and people – the keys to success
If you're going to take part in a walking challenge using a treadmill, I recommend getting in as much treadmill work as you can as part of your training. It's very different from walking outside and can be hard on the knees and hips. Also have people around to support you; there will be times when it really does feel relentless!
The main thing for me is remembering why I am doing it, remembering what my child has to go through daily. If he can do that, I can do this.
Find out more about Great Strides, My Way, including how we can support you with training and fundraising tips.