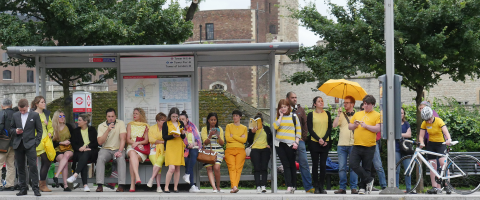 On 1 July, nearly 400 of you shared #CFYelfie photos on social media and texted donations to the Cystic Fibrosis Trust as part of our yearly awareness campaign.
We'd like to thank everyone who contributed to the campaign by proudly wearing yellow, making a donation or organising an event. You have raised an incredible £10,000 so far, which could go towards research projects focussing on fighting Pseudomonas or finding out more about gene editing, or be used to support hundreds of people with cystic fibrosis and their families.
Sandra Howarth, Senior Community Development and Fundraising Manager, said: "We are absolutely delighted that so many people took part in our 2016 Wear Yellow Day. Events ranged from yellow discos to yellow cake bakes and hundreds of people shared a #CFYelfie and generously donated. We even saw the Emirates Spinnaker Tower turn yellow! A huge thank you to everyone for taking part, it makes such a difference and really helps us continue our vital work."
Take a look at a small selection of photos below, and keep an eye on the Wear Yellow Day page for a picture album, coming soon.
If you missed out, don't worry - there are still plenty of ways to support the Trust this summer.