Dr Imogen Felton has been awarded a Clinical Training Fellowship, while Rachael Bass has received the Trust's first Physiotherapy Fellowship.
The Trust's Clinical Training Fellowship Programme provides specialist adult CF centres with a one-year grant to allow clinicians to specialise in CF care, awarding £75,000 of funding to successful candidates. The Programme helps CF centres to recruit and train talented individuals and allows doctors the opportunity to turn their talents to CF-focused training.
Committed clinicians
New Clinical Training Fellow Dr Felton said: "I am absolutely thrilled to be able to work with the Cystic Fibrosis Trust's 2016-2017 Fellowship Programme on this exciting project. My first ever job as a junior doctor was working on a Respiratory Ward for young adults with cystic fibrosis. Their unique life experiences and challenges inspired me to pursue this specialty long term.
"Twelve years on, having spent three years also researching emerging fungal infections in adults with CF, it means so much to know that we can be supported in developing our CF-related diabetes service and training resources for this project. We plan to build both taught and online educational modules by bringing together expertise from both patients and Respiratory and Endocrinology healthcare professionals. I look forward to broadening my own experience by seeing best practice in this area in several CF centres across the UK and abroad. Thank you once again for this fantastic opportunity."
Dr Felton will be undertaking her fellowship at the Royal Brompton Hospital and Kings College Hospital.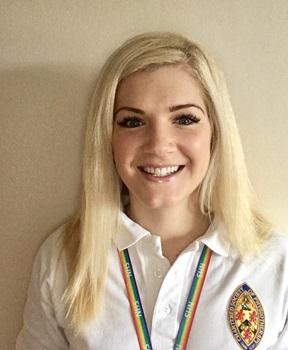 Fantastic physios
Physiotherapy is a huge part of everyday life for people with CF, and by starting a Physiotherapy Fellowship the Trust aims to improve opportunities for physiotherapists to undertake careers in CF care, and enable Fellows to lead ground-breaking CF services in the future.
New Physiotherapy Fellow Rachael Bass studied Physiotherapy at Northumbria University and qualified as a physiotherapist in 2010. Since then she has worked at both the Northumbria Foundation Trust and the Gateshead Foundation Trust. She will be undertaking her Fellowship in Newcastle.
Of her interest in CF care, Rachael said: "I have always had a particular interest in respiratory care, and took a Rotational Specialist Respiratory Position in the Newcastle Hospitals Trust, where I have been for the past few years. One of these rotations led me to an adult cystic fibrosis service. Not knowing much about the service previously, I quickly fell in love with the role and have chosen to continue my career within CF care.
"Through building bonds with the patients to get the most out of their treatment, and being surrounded by research and progressive developments I find it such an enjoyable and rewarding area to work in. I feel extremely privileged to be the first person to receive the Trust's Physiotherapy Fellowship. It is such an exciting opportunity and I can't wait to get started and face the challenges of the year ahead."
The Trust is currently sponsoring Fellows across the United Kingdom, and the scheme has a rich history. Professor Diana Bilton received a Research Fellowship from the Trust at the Manchester Adult CF Unit in 1984, and was recently awarded a lifetime achievement award by the European Cystic Fibrosis Society for her incredible contribution to CF research. Professor Bilton is currently the Lead Principal Investigator on the Trust's 'Harnessing data to improve lives' Strategic Research Centre.
Your support means that we can continue funding vital work like our Clinical Training Fellowships for long into the future. Why not consider making a regular donation today?