Community unites to call for #OrkambiNow!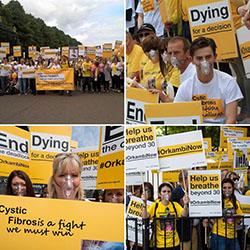 There was a fantastic turn-out at yesterday's Orkambi protests, organised by the Cystic Fibrosis Trust, which took place at four locations across the UK, aimed at the drug's manufacturer Vertex and the NHS in all four home nations.
The CF community marched on Holyrood, Stormont, the Welsh Assembly and Downing Street, while many more who couldn't be there because of cross-infection took part from home, sharing why they need #OrkambiNow across social media.
There was encouraging enthusiasm from politicians at protests across the country, particularly in Northern Ireland where a number of politicians from different parties turned up to support the fight for Orkambi.
At the demonstrations, supporters donned oxygen masks, raised picket signs and handed out leaflets to passers by, as well as chanting to highlight the need for access to Orkambi.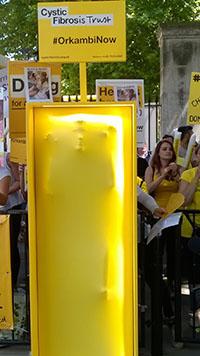 In London, the protest opposite Downing Street was given a visceral touch with the addition of a large model of a human figure struggling against a suffocating screen of yellow latex.
Among the voices raised on the way were Bill and Allison, who joined the London protest, inspired by their granddaughter. The couple said: "We hope they [the NHS and Vertex] listen. Our granddaughter is only four, so if they listen, there's hope for her."
The day began with Sadie Dann, who has cystic fibrosis, handing a petition in to Vertex headquarters. The petition, which urges Vertex to make Orkambi affordable for the NHS, was inspired by Sadie's friend Maisie, who has benefitted greatly from the drug.
The Trust's Chief Executive David Ramsden sent letters to Vertex Pharmaceuticals, NHS headquarters in England, Wales and Scotland and Health and Social Care Northern Ireland, to appeal that they reach an agreement on Orkambi "because too many people have been waiting for too long."
Lynsey Beswick, Public Affairs Manager at the Trust, paid tribute to all those who lent their voices to the campaign: "Thank you to everyone who took part. It was a remarkable display of strength, passion and determination from our community - generating widespread media coverage and political support."
Vertex has said it is going to put forward an improved offer and the NHS has indicated that it is willing to listen. We will continue to fight for access to this life-changing treatment.
Because so many people from the community were happy to share their stories and what Orkambi would mean to them, the protests attracted a great deal of print and broadcast media coverage across all four nations which, so far, has reached over 45 million people. BBC Radio 5 Live and national newspapers 'The Times', 'Daily Mirror' and the Independent 'i' covered the protest yesterday, as well as STV, ITV News and BBC Wales TV to name but a few.
See what happened
Lobby your politicians
We want to strike while the iron is hot, and continue to put pressure on governments across the United Kingdom to join our fight for Orkambi. Please continue to lobby your local politicians and let them know what Orkambi could do for you or those who could benefit, by using our template letters. Personalise your letter with your own story and let them know why it's so important that the treatment is made available without delay.