Refurbished rooms at King's College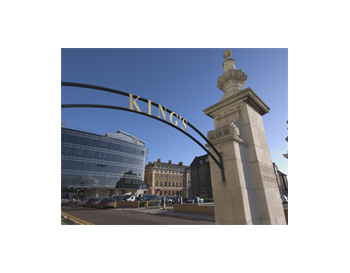 King's College Hospital has officially opened its refurbished adult CF unit, providing patients with improved facilities, an upgrade championed by the Cystic Fibrosis Trust and the CF community at King's.
The unit, which was funded by both the Cystic Fibrosis Trust and the King's College Hospital's CF Fund, has been reconfigured to improve inpatient facilities, including four ensuite rooms: a crucial development to minimise the risk of cross-infection while providing people with CF with comfort and privacy.
In addition to the ensuite facilities, there are also two new outpatient treatments areas.
Over 200 people with CF receive care at King's College Hospital and with refurbishments now finished, people with CF being treated at King's College Hospital are already reaping the benefits of the improved environment. Charlotte Dighton, 19, who has received CF care at King's paediatric and adults services since she was born, is enjoying the improvements since the refurbishment. She said: "Having access to my own ensuite shower, which is not used by anyone else, has meant I can take my time without having to rush and become breathless." 
Keith Brownlee, Director of Impact at the Trust, said: "I am delighted to see the improvement in clinical accommodation at King's and I am sure this will make hospital stays for people with CF more effective, pleasant and comfortable."