Rob Law: 65 Roses and a Trunki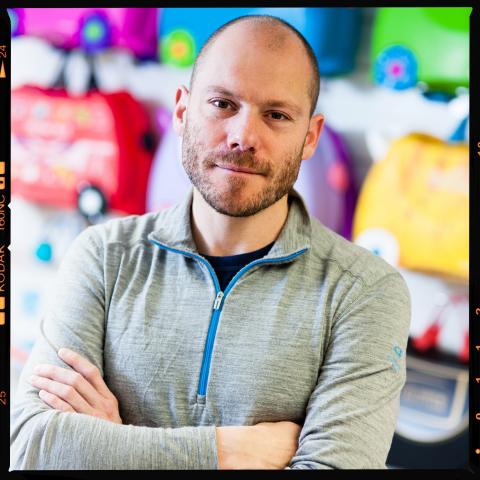 Living with CF
Everyone's relationship with their condition is unique, but in his book Rob chooses to open up about his experiences of CF, including the death of his twin sister Kate as a teenager, and the hard journey to start the family he was once told he could never have.
How do you describe CF when you are telling someone about it for the first time?
Rob: To be honest I very rarely do tell people. Not out of shame but because I don't want anybody's sympathy. My personal survival strategy is to believe I'm as normal as the next person in public and in private my treatments are normal everyday stuff I've always had to do. I think in very recent years the awareness of CF has got significantly better. Recently I've told a few neighbours during COVID that I'm having to stay home as I've got CF: they didn't ask what it was and had a degree of understanding.
Releasing your autobiography is quite a milestone. When you look back, how has life with CF changed over the years?
Rob: I suppose the three major milestones for me were the invention of Creon which meant from the age of seven I could start eating fatty foods and wave goodbye to Weetabix cakes; being introduced to the Flutter and stopping have to do physio inclined in my 20s; and learning that I could have children in my 30s through IVF.
A balancing act
Rob's book is an honest and often emotional account of the very different battlefields of CF and the business world, and lessons learned in running both a family and a multi-million-pound empire.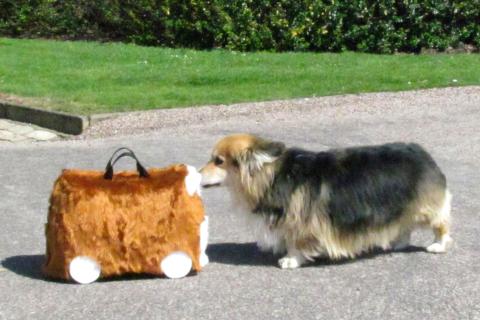 As you know, it's CF Week and we've been exploring how people with CF manage to balance their condition with living the life they want to live. How do you find the balance between looking after your CF and not letting it get in the way of your business and life goals? 
I really struggled with this in the start-up years, giving all my attention to the business and often burnt myself out and ended up on IVs. After having kids, I realised I had to slow down to have any chance of seeing them grow into adulthood. That meant stopping burning the midnight oil, pulling back on socialising and making time for physio and early nights. 
How did you bounce back or find the strength to keep going when you had setbacks from Pseudomonas or other health issues?
Rob: It's those tough moments that serve as a fresh reminder that life is too short and you need to stay healthy to make the most of it and to keep pushing forward. I like to focus on what I can control and forget about what I can't. So, don't waste time and energy worrying about things you can't influence and double down on the things you can that will make a big impact personally to you.
What does every budding entrepreneur need to know?
Rob: It's not an easy journey running your own business, it's a tough road to choose. You need resilience as you will get lots of knockbacks; but living a life with CF give us more grit than most people!
Adapting again for COVID
Trunki has had to overcome a public rejection on BBC's 'Dragon's Den', travel bans and global financial downturns, and now there's no getting away from the impact of COVID at the moment – how has it impacted the business?
Rob: COVID is probably the most significant challenge we have faced and as you say I've seen a few… we're part of the travel industry. However, it reminds me of my first six months of trading back in 2006, working out of my bedroom trying to navigate a hand luggage ban thanks to the height of the terrorist threats. Like back then, I can't influence when the ban will be lifted, but I immediately implemented cost-saving strategies to ensure there is still a business when families start travelling again. However, my book does seem to be more poignant than ever!
We know that shielding has been a big issue for many in the CF community. As someone with CF with young children (six, four and one years old), how are you personally balancing staying safe and managing your company?
Rob: The secret is simply building a great team and delegating. I've been working three days a week for about three years now; I have joint MDs running the day-to-day and can focus on strategy, design and marketing. Working from home is now the new norm: I've switched to working every morning and then its PE with dad in the garden in the afternoon (and the odd bike ride around quite areas).
And finally…
What advice would you give your 13-year-old self?
Rob: Keep following your passion and you will start to really enjoy your life - through the education system and beyond.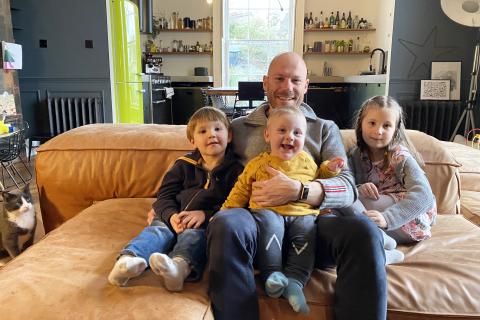 What are you most proud of in your life?
Rob: My three kids, Ida, Rafe and Kip. Building a global brand comes a close second. I suppose watching my kids using the products I've invented probably tops the list. In fact, they inspired me to make our latest range of folding balance bikes and scooters complete with Trunki tow straps.
We couldn't resist - in your book you mention your love of hitting the clubs back in the day – what's your favourite dance track? 
Rob: One that really sticks in my mind from University days and reminds me of some great evenings and dawns with some of my best mates is 'Greece 2000' by Three Drives on a Vinyl.
Rob Law is a patron of the Cystic Fibrosis Trust's 65 Roses Club and a Trust ambassador. Rob's autobiography '65 Roses & A Trunki Defying the Odds in Life & Business' is out from today and available to buy through Amazon and other booksellers.
Images
Top: Rob Law
Above Left: Trunki meets a Royal corgi at Windsor Castle in 2011 (where Rob received his MBE)
Above right: Rob with the children he was told he could never have, Rafe, Kip and Ida