Ryan and Martin: a meeting of minds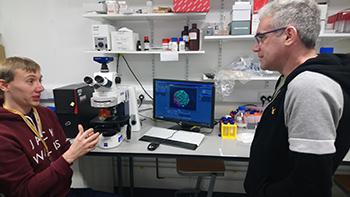 Ryan's work has the potential to provide the information researchers require to improve detection and treatment of CFRD, but possibly even to develop methods in the future that could prevent or delay the onset of CFRD. After CF's Got Talent! the pair met in person for the first time at Ryan's laboratory base at the Ulster University Clinical Research unit at Altnagelvin Area Hospital in Northern Ireland. Here, Ryan was able to demonstrate the work that he had discussed with Martin for the presentation; how samples are collected and stored, and how changes to the islets of the pancreas are viewed through the microscope and what the changes indicate.
We spoke to Martin and Ryan about this experience in the latest edition of CF Life magazine. Here you can read their full interview and find out what a huge difference the experience made to Ryan in his research and to Martin in his understanding of CFRD.
What did it mean to you to meet in person?
Martin: I wasn't really sure what to expect from my invitation to the University of Ulster, but it was a really informative visit. Their enthusiasm for their work was infectious and made me appreciate in a new way the role of the Cystic Fibrosis Trust who fund and support their research.
Ryan: I would encourage other scientists to meet with people with the condition they are working on. Whilst as a scientist, I can rhyme off a lot of facts and figures regarding the condition, this doesn't explain the reality of living with CF, and speaking with Martin gave me a fresh insight into this.
Did anything surprise you about the visit?
Martin: Seeing the process made it real and helped me to understand the time it all takes, as well as the dedication of the team. Although it seems obvious, I was amazed to discover that part of Ryan's work was to invent procedures to allow him to do his work! Testing a cell from the pancreas to see how it produces insulin is a very long process. A process that can be very frustrating if the cells don't grow consistently. So Ryan has had to create a method of working that gets accurate and repeatable results. That seemingly simple job has taken him a long time to perfect.
Ryan: Scientific research can be frustrating at times. Speaking to Martin put these frustrations into context and reminded me why the work we do matters; it's not just numbers and cells, it's the opportunity to improve how people with CF live. This has affected the way I approach research as I now pay more attention to the ultimate question: 'How will this research affect someone with CF?' One of the first things we spoke about was how to address people with CF, as many scientific journals, reports (and myself at the time!) referred to someone with CF as a 'CF patient'. But from speaking with Martin, he advised us that 'person with CF' is the more appropriate terminology as CF doesn't define them.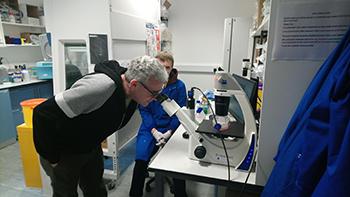 Martin, why did you choose to get involved in research?
Martin: Having participated in several trials over the years, this opportunity further feeds my interest in research. The time that I spent with Ryan learning more about his research was a really beneficial experience for me, and I was able to explain to Ryan how CFRD is a very unique complication of cystic fibrosis.
What has been the hardest thing for you about having CFRD, Martin?
Martin: The biggest challenge for me has been finding reliable information to help manage my condition, but also informing people of the differences between CFRD and other forms of diabetes. I have to reassure people that they don't need to 'help me' by reducing the amount of sugar in my coffee. CFRD, although treated like Type 1 diabetes, is its own illness – even doctors and nurses at my local GP surgery don't know this!
Ryan: Lab work can be tedious and repetitive. You can wait six weeks to be able to witness a reaction or change in the cells you're working with. They may not react in the way you'd anticipated, and the work has to be repeated. It's easy to lose sight of the end goal or impact of your work. Hearing Martin's experiences of CFRD, the uncertainties around diagnosis and the difficulties balancing treatment, especially with an already burdensome healthcare regime, increases my drive and determination to succeed in my work.
How is the Cystic Fibrosis Trust supporting involvement of people with CF in research?
Patient and public involvement, or PPI, is about the involvement of people with CF and their families in research, and can involve everything from meetings like Martin and Ryan's, to discussions and reviews of research proposals, clinical trial design and trial documentation. This involvement of the people who stand to benefit from research can help ensure that the people with the knowledge and experience of living with CF can share that with the professionals who are working to improve their lives through science.
The Trust's Clinical Trials Accelerator Platform currently has an active PPI group of around 50 people, including adults and young people living with CF, parents of children with CF, partners and family members. If you would like to join them and have the opportunity to share your insights of life with CF, sign up today.