Fundraising in a summer like no other
Rob and Frankie go live in lockdown
In the early days of lockdown, Rob and Frankie, two musicians from Milton Keynes, kept their friends and family entertained by hosting weekly Facebook-lives and playing songs at people's requests. As the rules eased, they decided to meet up with the rest of their band in the garden and round up their performances with one final gig to raise money for the Cystic Fibrosis Trust.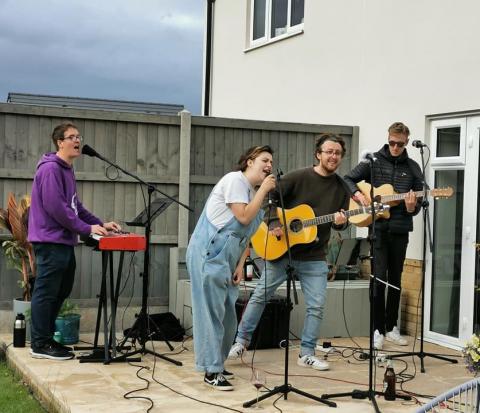 "We normally hold a music festival every year to raise money for the Trust, as my sister Kate has CF," said Rob. "When lockdown hit and we both realised we had to cancel the event, we put our heads together to think of another way we could still raise some money... and so, 'Live in Lockdown' was born!
"We did 14 weeks of live sets, just me and Frankie. For our last one with the band, we set up a JustGiving page and an event on Facebook and invited everyone we knew. We hadn't played as a band since Christmas, the laptop was precariously balanced on top of a wheelie bin and we were all crossing our fingers that it wouldn't rain! Our friends Rosie and Carolyn managed the camera and kept an eye on the donation total, shouting out the amount after each song. We agreed if we could make at least £150, we'd be happy.
"We kept the video live on Facebook for a week and shared it for those who couldn't tune in. A week later, we'd raised over £2,000!
"We never really expected to raise as much as we did. As I mentioned, my sister Kate has CF, so raising money is important to us, especially now as we are seeing the amazing breakthroughs in new drugs and facilities for CF patients. It was amazing to think all this started with Frankie and I doing acoustic covers in our dining rooms."
Amanda's socially distanced shop
Amanda mastered the art of socially distanced fundraising over lockdown, making face masks and selling them in her local community by pinning them on a tree outside her house.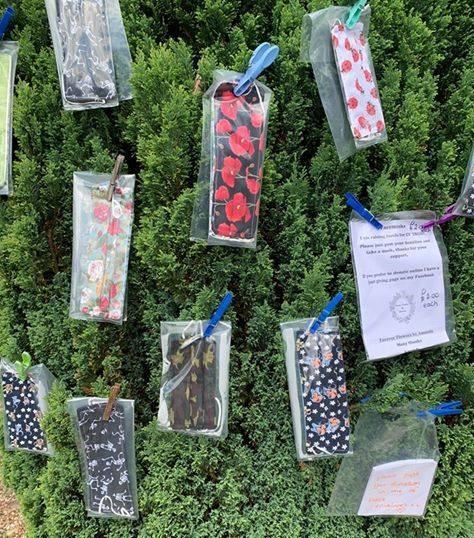 "A friend of mine came up with the idea, as she knew I liked crafting and I had a hoard of fabrics that I'd collected. I watched a few videos on YouTube; the first one took me nearly four hours, but I carried on and soon got the hang of it.
"I put the masks into a bag and pegged them onto the big fir tree in my garden. I posted a status on some Facebook selling pages, and at 10am the next day there was a little queue outside my gate where people were waiting to buy them at a distance. I made over £50!
"It became a full-time hobby over lockdown, sewing and filling the tree, but it was a lot of fun too. I chose the Trust to raise money for as I have a son who has CF and I really want to help find a cure. It's also a small way of giving back for all the kindness and care that we have received from our CF team at Salisbury District Hospital."
Philip's head-shave on the airwaves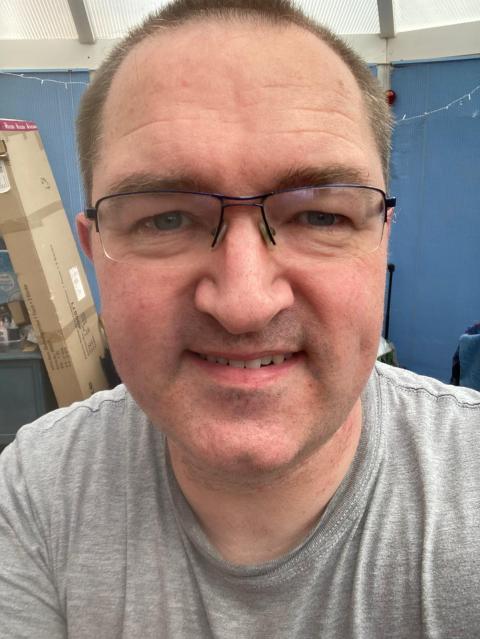 Philip used his local radio show to raise money and awareness of CF, in support of his friend who lives with the condition. Friends, family and his avid listeners tuned in to watch and donate as he live-streamed his charity head-shave.
"I'll always raise money for the Trust. Cystic fibrosis is a cause that is close to my heart, having watched my good friend Iain live with it since we became friends back in 2004. While lockdown was tough for everyone, living with a life-limiting condition and shielding would have been particularly difficult. So, when my wife and sister suggested I shave my head for a good cause, the choice of charity was an easy one!
"I had Iain on my community radio show on Radio Deeside and publicised my fundraiser. We streamed the head-shave live on my birthday. The fact that friends, family and complete strangers helped me raise £700 was just fantastic."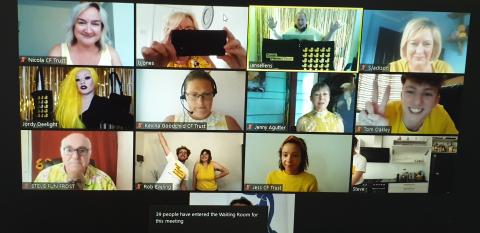 Although we weren't able to celebrate CF Week and Wear Yellow Day in the way we normally would, we were blown away by the support from the CF community, and the way everyone still came together to celebrate. Throughout the week we heard stories of how people balance CF in their everyday lives and ended it with an unforgettable Big Yellow Party on Zoom. We cannot thank everyone enough for joining us or taking part and making this a CF Week to remember.
Their charity partnership with the Trust only started at the beginning of lockdown, but the team at Pure-Tec Ltd still held a number of fundraisers to support our fight for a life unlimited. 
"When we all returned to the office, we had Easter eggs left over from a cancelled Easter raffle and so, we held a postponed Easter raffle during CF Week along with a quiz, a tuck shop and guessing the number of sweets in a jar. We also donated our old office mobile phones, which raised quite a bit," said Katy, Pure-Tec's fundraising lead. 
"As the organiser of the events, raising money for the Trust means a lot to me. I have a family member who has the condition, and to extend my fundraising into the workplace makes a massive difference. We're only a small business so only raise between £50 and £60 per event, but it all matters and makes a difference to people with cystic fibrosis."
Roger's wacky Wear Yellow Day-do
When lockdown restrictions temporarily closed his salon, Roger decided to use the extra time at home to think of a way to fundraise for Wear Yellow Day in June. As you can see, he certainly thought of a BRIGHT idea…!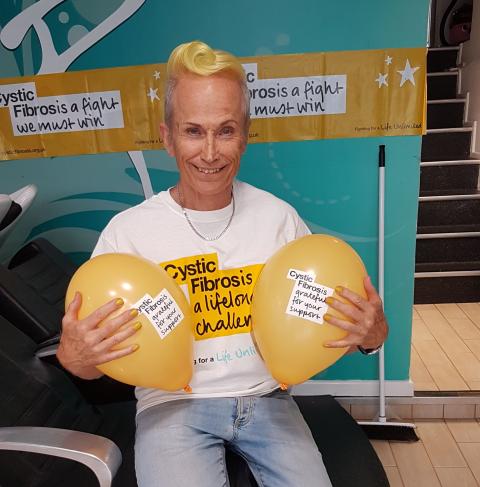 "Since our little Jessica, my granddaughter, was diagnosed with CF three years ago, I've wanted to get involved with fundraising. Because I run a salon my time has been limited… until the pandemic! With lots of time to do something while we were shut, I persuaded my non-hairdresser wife, Mary, to bleach my hair yellow. She is just as keen as I am to help raise money to fight CF, and she did a pretty good job!
"Thanks to the generosity of all our friends, relatives and clients, we raised over £600. We hope this will allow further progress in the treatments of CF and help the lives of so many who battle away with this disease behind closed doors.
"For those thinking of fundraising, it's so easy to set up a funding page – all you need to do is think of a crazy idea and get the ball rolling. The team at the Trust have been very helpful all the way through as well."
Louis and Irelanda's long journey to Land's End
From July to September, Louis rode the renowned route between John O'Groates to Land's End to raise money for the Trust… on horseback! He and his trusty steed Irelanda travelled almost 1,150 miles, raising money in memory of his friend Leo, who would have been 31 this year.
"My friend Leo died of CF when he was 26. He was an incredible inspiration, friend and human being to everyone he met. He chose to live his 26 years full of love and hope; he never wasted a second and remains a hero to many. I am now not so much younger than he was when he died, and during the spread of the coronavirus pandemic, I realised how many people with underlying health issues, such as CF, would need serious help and support during and after the spread of the virus. 
"We set off on 18 July from John O' Groats and arrived in Land's End on 12 September, raising over £32,500 for the Cystic Fibrosis Trust, from what was initially a £10,000 target. The Trust strives for everyone with CF to be able to have access to the best available treatment, no matter who you are or where you come from. Every penny is hope.
"This challenge – 'The Big Hoof' – is in memory of Leo and all those who suffer from CF: past, present and future. Nothing that anyone does can overturn the suffering that CF inflicts upon an individual and their family, but with each step that Irelanda and I took, and every donation big and small, we are fighting this disease and helping to prevent further loss in the future."
Chrissie's handmade cards
Chrissie has been raising money from her homemade greeting cards since her eldest granddaughter was born with cystic fibrosis. She had stopped shortly after retirement, but post started to pick up again over the summer.
"I am very happy to do a hobby that I enjoy, and being able to support the Cystic Fibrosis Trust is an added bonus. Both my granddaughters, Andrea (17) and Caitlin (14) have CF, as do my husband's twin granddaughters, and the Trust does so much to support people with cystic fibrosis.""I started selling cards again in June this year. I sell them for only a pound, but most people donate more. I make cards for any occasion; I also take orders for personalised cards and have found these are very popular. 
Buns, BBQ's and bubbles!
When shielding paused across the UK, the CF community made the most of the warmer, sunnier days by holding 'Bubble BBQ's' in their homes. After months of being apart, it was great to see friends and family reunited – albeit in a socially-distanced way! The Creaney family certainly made good use of their Bubble BBQ pack, while raising vital funds to support people with CF and their families. 
Marc's chart-topping melody
When Marc found out he'd been granted access to Kaftrio he was overcome with emotions… and song lyrics! 'Thousand Years' not only captured the hearts of the CF community but took to the charts as well, with 50% of the sales being donated to the Trust and the CF Holiday Fund.
"The song literally wrote itself (as cliché as that may sound). I wrote the song the day I received the call from my CF team; the words poured out of me, as did the melodies, as if someone else was writing for me.
"The main thing I'm proud of is that so many people from our community got behind the song. I love creating; being creative is part of my identity and it's a huge bonus when that creativity is well-received by others. It meant so much to so many and, even now, people are still messaging me to tell me they're listening to it and enjoying it. The CF community is unlike any other. 
"I'm still waiting to find out what I've raised from this song, but any amount is a positive and it means the world to be able to use my passion for music to do so. Fundraising and awareness initiatives for CF have led to people with CF living longer, happier and healthier lives; however, while much progress has been made, there is still a lot to do. Thousands of people with CF won't have access to the new medications, so we all need to find new and interesting ways to fundraise and keep doing our bit. And who knows, with a bit of luck and encouragement from our incredible community, you might find yourself in the top 20 of the iTunes music charts!"
"We would like to thank everyone from the CF community for their support this year, whether you have organised an event, attended one or made a donation," said Bev Burnham-Jones, Head of Community Giving and Events at the Trust. "With an enormous increase in the demand for our services due to COVID-19 and a substantial drop in our fundraising income, your support is vital in helping us reach people affected by cystic fibrosis."
Feeling inspired? If you want to plan a charity event you'll find support and resources here to help you get going. Download our virtual A-Z of fundraising ideas if you're not sure where to start, or speak to your local Community Fundraiser by emailing events@cysticfibrosis.org.uk.