Survey reports positive experiences of clinical trials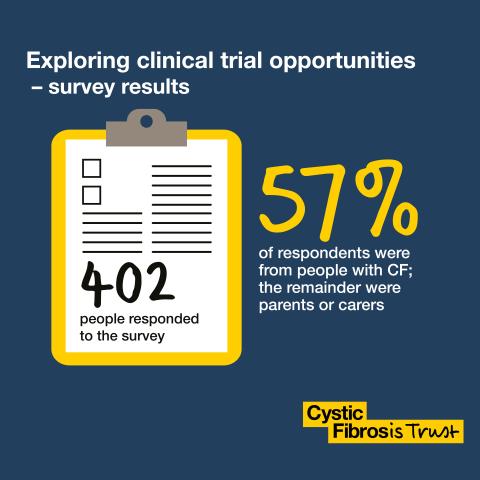 In 2020, over 400 parents and people living with CF completed the clinical trials annual survey and told us what they thought of the various aspects of clinical trials. This included some people with CF who had taken part in a trial, or had a child who had, and some who had not.  
Despite the challenges faced by clinical and research teams across the UK this past year, we are delighted to see the CF community continue to report positive experiences and attitudes towards trials, with 89% saying they felt the opportunity to take part in clinical trials was positive.
Experiences of trial participation 
Of those surveyed, 46% of have had the opportunity to take part in a trial in the last three years. In the last 12 months, 24% had the opportunity to consider a trial, reflecting the impact of the coronavirus (COVID-19) pandemic on reduced trial activities. 
Clinical teams are the main way people find out about trials, and over 70% said they'd spoken to their clinical team in this way. For a large proportion of the UK CF population, our Trial Coordinators also play a key role in supporting patients throughout the clinical trials process. Coordinators work with clinical and research teams to support trials, from recruitment right through to trial completion. Since we launched the Trials Accelerator in 2017, our coordinators have supported 726 children and adults with CF to take part in a clinical trial. 
The majority of our respondents reported a positive experience of all aspects of their trial participation, and 69% felt fully supported and confident about the initial information and consent process. 
We're also delighted to see that of those who take part in a trial, 96% would do so again.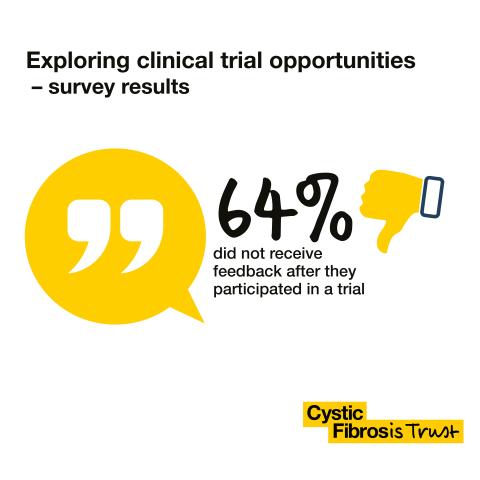 Communication could be better
One thing we learned from the survey is that that keeping participants informed after trials continues to be a weak spot, with 64% not receiving feedback after they participated. This is a common issue in research generally, as results take time to become available and are usually published in medical journals with high level scientific language that require a subscription to read them.  
We are currently working with key people to overcome these issues by creating a simple results summary on the Trials Tracker database. We are also working with pharmaceutical companies to ensure information is easier to find and understand for a wider range of people. 
The future of CF trials 
Of course, there are many reasons why people with CF may be unable to take part in a clinical trial or decline participation. 
In 2020, we were interested to see the top reasons for declining to participate in a trial remained the same as previous years. These included the inconvenience of additional hospital visits, appointments and burden on time. 
While COVID-19 presented many challenges in 2020, many trials were successfully adapted, and these lessons are being carried forward to future trial design. We can look forward to new trials including the use of remote monitoring tools, virtual appointments, home visits and postal samples. 
Some of the other reported reasoning behind not participating in a trial was the inability to take part due to a change in health, or having a rare mutation type. 
For those currently unable to access Kaftrio, there is hope on the horizon. HIT CF Europe is a research project that aims to provide better treatment and better lives for people with CF with rarer mutations. Part 1 of the project completed last year, where biopsy samples were collected from people with rare CF mutations and tested in a lab setting against possible modulator therapies for a response. Part 2 is expected to start this year, with a small subset of participants from part 1 being invited to take part in clinical trials of the modulator therapies. 
Research into new therapies is also continuing and there are a number of possible treatments forecasted for trials in 2021 and beyond, including new modulators, mucolytics, anti-inflammatories, anti-microbials and gene therapies. We're seeing significant investment and a number of companies looking to develop gene therapies for CF, including a $500million investment made by the US Cystic Fibrosis Foundation in 2019 to develop treatments for those not eligible for current triple therapies. 
The Trials Tracker is regularly updated with new trials as they are being set up in the UK. For details of trial status, visit the Trials Tracker webpage.
Download the results to this year's clinical trials annual survey. For more information about clinical trials and how you could take part, visit our Clinical Trials Digital Hub.