Tim's journey to the finish line - the final stretch
Tim signed up for the London Marathon "to do something incredible" for his 40th birthday this month. Since finding out last October that he had got in, Tim has managed to raise nearly £3,000 in sponsorship. He also developed an 18-week training plan to help him prepare for the big race.
"Keeping my motivation has been extremely difficult," Tim told us, "There have been many days where I have wanted to stay in bed instead of going for a run, or wanting to quit at three miles of a 20-mile training run. However I know from experience that inadequate preparation will cause me a lot of pain towards the end of the race."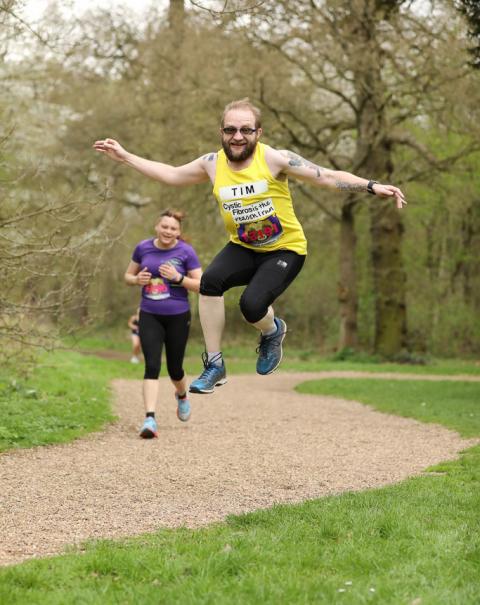 Disaster struck Tim's training plan in the new year after he was involved in a Go-Karting accident and fractured several ribs. However, Tim pushed through the pain and incredibly was back in training the following week.
Running the marathon is a massive feat in itself, but would be particularly special achievement for Tim, who took up running after taking part in a CF clinical drug trial in 2013. However, he's confident that preparation and determination will help him complete the race.
He said: "I am quite goal focused and when I set my mind to a challenge I can get fairly single-minded to complete that challenge. I refuse to let my CF get in the way. I am confident in my training plan and trust it to get me round."
Naturally, with just a few days to go to the big race, nerves and excitement are kicking in.
"My feelings about the big day are insane," Tim told us, "One day I can be excited to be taking part in one of the biggest sporting challenges on the planet, yet 30 minutes later I am petrified for what I am doing."
We wish Tim and all our Virgin Money London Marathon runners the very best of luck for the race!
Share your support for Team CF on social media, or come along and cheer on the team this Sunday. If you'd like to follow in the footsteps of our runners, get involved in one of our other running events.
You can continue support Tim's London Marathon challenge up until Sunday by donating to his Just Giving page and following him on Facebook and Instagram.