Tributes to two inspirational trustees
Sir Robert Johnson QC, who died in October aged 87, was a High Court judge and silk who co-founded the first CF Parents Support Group in London and South East England and went on to help establish the Cystic Fibrosis Trust.
Sir Robert and his wife Linda opened their support group for parents of children with CF in 1963 after two of their three children were born with the condition, and would continue to contribute to the care and outlook for people with CF for over 50 years, both in the UK and internationally.
Sir Robert was a trustee from the Trust's inception in 1964, and served as a board member, vice-chair and fundraiser before stepping down finally in 2010.
Among many qualities, Sir Robert is remembered by former colleagues for his wisdom, vast experience and good humour. Ever hands-on with his support, Sir Robert attended the first London Marathon reception for Trust runners, where while the guests were relaxing, he was found packing away the display units before he would join the party.
Peter Levy OBE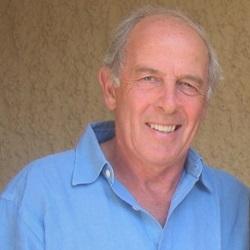 Peter Levy OBE, who died in November, was a property investor and philanthropist. The son of Joseph Levy CBE, Peter followed in his father's footsteps as a committed supporter of the Cystic Fibrosis Trust. After chairing the former London & South East Region, Peter joined the Trust's Executive Committee in 1975. He served as vice-chair and then took over as Chair in 1984 when his father retired.
In 1991, Peter was awarded an OBE for outstanding work on behalf of the Trust. This included raising funds through an annual appeal and taking part in events such as the Doncaster Races and annual cricket and golf tournaments.
Peter was a trustee of the Joseph Levy Foundation, which was set up by his father and which is a long-term supporter of the Trust's research work. He also supervised the Joseph Levy Education Fund, which was created through a gift by the Foundation, in memory of his father, to help adults with CF by providing grants to support their further or higher education or vocational training.
Paying tribute to Sir Robert and Peter, David Ramsden, Chief Executive of the Trust, said: "Everyone at the Trust was deeply saddened to hear of these deaths and also inspired by what Sir Robert and Peter achieved in life. We are committed to do all we can to build on their incredible legacy of service and support to all people with cystic fibrosis."