The 2.6 Challenge takes off!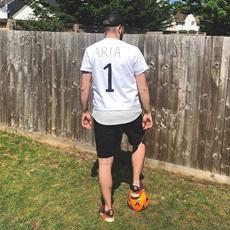 Jonathan's keepy-ups
For his 2.6 Challenge, Jonathan did 1,368 'keepy-ups' non-stop for 26 minutes, in support of his newborn daughter Aria, who was diagnosed at birth with cystic fibrosis.
Jonny said: "As you can imagine, it has been a very difficult time for my family and I coming to terms with the news. I wanted to get involved in this challenge not only to raise awareness but to show the world we can beat this. Anything that I can do to help this charity and help others is my goal. I also wanted to do this so that other families with children who have been newly diagnosed know that they are not alone.
"The 2.6 Challenge is a great way to get involved in the charity during a time of uncertainty. I would like to say thank you to my family and friends for all their support; to my sister and four sisters-in-law, who also did their own challenges for the Trust; and to my wife Sarah, who has been incredible throughout."
Finley's marathon miles
Nine-year old Finley was so concerned that charities wouldn't be getting their much-needed funds from the London Marathon that he decided to run 2.6 miles every day for 10 days! 
"Finley will be doing this in our back garden, as he has CF himself and is currently shielding," said Dannielle, Finley's mother. "By the end of this, he will have run the same distance as the full marathon!
"He chose the marathon challenge as my husband Wayne has run four marathons in the past six years for the Trust (you may remember he dyed his beard yellow to run the marathon, at Finley's request!). It's a charity we hold extremely close to our hearts because of the support they offer the CF community."
Kirsty's quarantine quatrain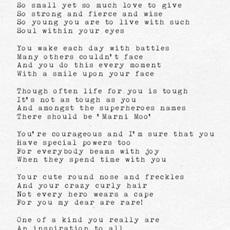 Kirsty knew she wanted to raise money for the Trust as soon as she saw The 2.6 Challenge. She has fundraised for two years now, after first being inspired by a little girl called Marni, who has CF, that she met when she was a teaching assistant.
"I can't run or do anything amazing, but on the side of being a TA I have started to blog," said mother of two Kirsty. "I adore writing and love creating poems, and I thought I could offer something I love doing. So, in return for a minimum donation of £2.60, I am writing personalised poems.
"Although I haven't raised a huge amount, my poems give a little joy to my sponsors at a difficult time. I am also doing this challenge for those friends who are living with CF, to let them know they are never far from my thoughts."
John's ironing-man challenge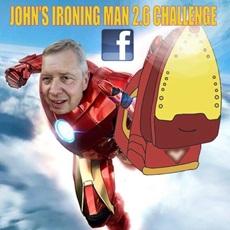 Beth, who has CF, has been shielding with her parents John and Michelle since the government announced the lockdown. Although restricted to the small confinements of their home, her dad decided to get creative for his challenge.
Beth said: "My dad's 'Ironing Man Challenge' involved ironing 26 t-shirts (no mean feat!), cycling 26k on a static bike and jogging 2.6k in our tiny yard. We intended to raise a few smiles in the process, with my mum providing drinks and sponge cake during the intervals.
"Dad had a very humble target of £26 but is now on around £800! We've also made a video of his challenge highlights."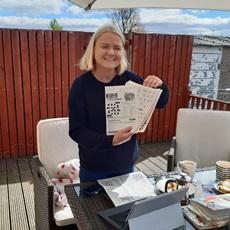 Yvonne's puzzle pieces
Yvonne also has CF, which meant she was unable to leave the house to run or cycle. Luckily, she had her favourite hobby to fall back on.
"I am puzzle daft: it has got me through many a hospital stay, from childhood to present day, and so for my challenge I decided to do 26 puzzles in 2.6 hours," said Yvonne, who also used to work at the Trust. "I cobbled together 26 puzzles - crosswords, Sudoku's and newspaper puzzles - and broadcasted through Facebook live, with my parents close by to adjudicate. I was muttering out clues and folks were sending me answers on the Facebook thread… through I never saw them as I was too busy concentrating!
"By the Sunday night I had raised over £700! I was absolutely delighted. I want to thank everyone who put their hands in their pockets at this hard time, and to thank everyone for supporting the Cystic Fibrosis Trust."
The 'Big Burpee Challenge'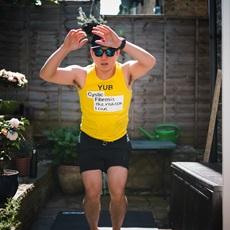 Juliet and her husband Yuebi were both really keen to take part in The 2.6 Challenge; however, Juliet's lung function has taken a toll since she started shielding and she sadly wasn't able to join. So Yuebi came up with a brilliant idea, calling on 25 of their friends and family to create a virtual 26-strong 'Big Burpee Challenge' team.
"Each one of them will be doing 262 burpees every day for 26 days," explained Juliet. "They're approaching it differently, sometimes hitting it all at once, sometimes spreading them out through the day or even doing 50 burpees every time they put the kettle on! Each evening, we're doing a team Zoom call for everyone to do the last 26 together!
"The Trust has always been close to us because of my own cystic fibrosis. It's not an easy time for charities with fundraising events cancelled, but it really means a lot to have the Trust there releasing statements and FAQ's from the beginning, when hospitals were swamped and there were no government guidelines. The continuity of their amazing work has been incredibly reassuring and has been a rock for my husband and I in this totally scary and unprecedented time. We'd like to extend our thanks to everybody at the Trust, for working so tirelessly to provide guidance and support to the whole CF community."
There's still time to join The 2.6 Challenge and support us! Sign up today or visit our events page for more information. Don't forget to show us your challenges!