Transplant information and resources
Here, you can find out more about cystic fibrosis (CF) and double lung transplant, liver transplant and the transplantation of other organs. You can also find the Cystic Fibrosis Trust's transplant information resources for adults and children with CF, and their friends and family, to help them understand what it might mean for their loved one.
On this page, you can find out more about:
While there is excitement and anticipation about new and emerging treatments in the pipeline, and a huge amount of international research is being funded to improve and extend the lives of people with cystic fibrosis, there are many people with the condition for whom existing treatments are no longer having an impact. This is when a double lung transplant might be considered. Transplantation of other organs, including liver, can also be necessary due to the damage the condition inflicts across multiple organs.
Find out more about cystic fibrosis and transplant, or scroll down to explore our transplant booklets.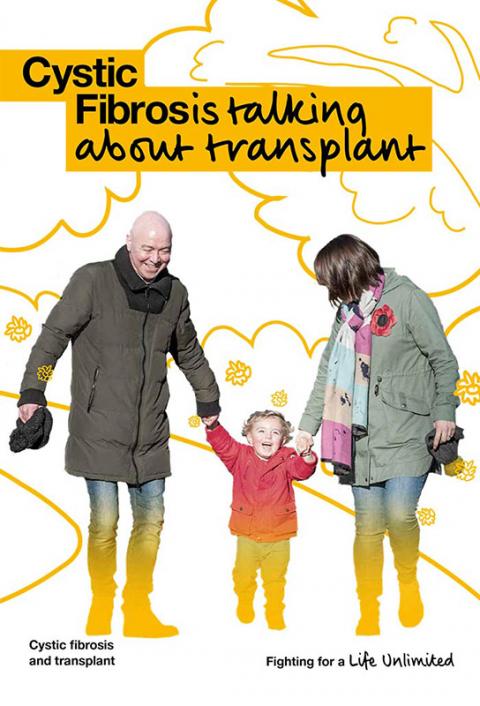 Transplant booklets
We have worked with people with cystic fibrosis (CF), their families and CF and transplant clinicians to create three booklets on transplant:
Our resources are free to download and order, but we would be very grateful if you would consider making a donation to help us continue our important work.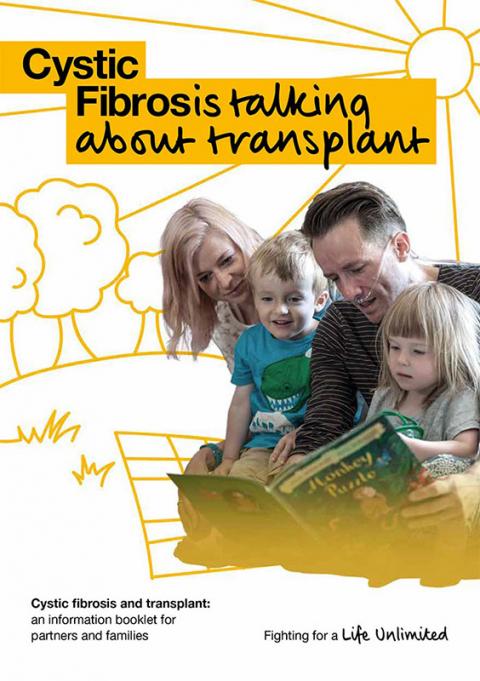 What is covered in the transplant booklets?
As well as information from CF and transplant professionals, you'll also find stories from real people who have been through the transplant process and have helped us to create these resources. The booklets contain information and advice about being listed for a transplant, the transplant process, and life after transplant.
Being listed for a transplant
The booklets cover a number of areas that you may want to consider if you or your loved one with CF has been listed for a transplant. These include:
Talking about transplant with friends, family and children
The transplant assessment process
Deciding whether or not to be listed for transplant
Advance care planning
Experiencing life on the transplant list
Staying healthy in preparation for transplant
Preparing for a call
Handling false alarms
Coming off the transplant list or choosing not to have a transplant
Finding financial support
The transplant process
You will also find information on the transplant process itself, including:
Information about the transplant operation, including spending time in the Intensive Care Unit (ICU)
Recovery and rehabilitation
Dealing with potential complications
The psychological impact of transplant
Life after transplant
Finally, we have provided information about life after transplant, which includes:
Family planning
Restrictions post-transplant
Alcohol and drug use post-transplant
Further information and support
We hope that the information and stories in these booklets will help you better prepare for the transplant process, encourage you to ask questions, and seek support.
The trained staff at the Cystic Fibrosis Trust helpline provide an information service and a listening ear, as well as further details about available grants, including a transplant grant. You can contact the Helpline on 0300 373 1000 or at helpline@cysticfibrosis.org.uk
Transplant-specific support
Details about support groups specifically for people going through liver transplant: www.pscsupport.org.uk/your-transplant
Harefield Hamsters provides support to people who have had, or are waiting to have, an organ transplant: www.harefieldhamsters.org
General psychological support
Butler and Hope (2007) 'Manage your mind' is published by OUP Oxford  
Northumberland NHS Trust have developed a range of 'self-help' leaflets: web.ntw.nhs.uk/selfhelp
Information about the transplant grant
Transplant grants are up to £250 and help to support people living with cystic fibrosis (CF) with the costs associated with attending a transplant assessment and having a transplant. Find out more here.
Post-transplant activities
Transplant Sport is the UK's largest charity promoting active recovery for transplant recipients and increasing awareness of the benefits of organ donation: www.transplantsport.org.uk
Post-lung transplant nutrition for people with cystic fibrosis
This leaflet aims to provide information about how your dietary and nutritional needs may change following a lung transplant. It covers: the first few months following a transplant, weight management, bone health, cystic fibrosis-related diabetes (CFRD), vitamin supplements, gastrointestinal issues, raised cholesterol levels, kidney problems and chronic rejection. Read the leaflet here.
There is a shortage of suitable donor organs, and approximately a third of all those on the waiting list for a lung transplant will die before they receive a donor lung. We are committed to increasing access to successful lung transplants – find out more about our Hope for More campaign.
Read about research we are funding into how to make more donor lungs viable for transplant.
Right now, there are around 6,300 people in the UK who need an organ transplant that could save their life or improve their quality of life, including around 70 people with CF waiting for vital organs.
If you want to help someone live after your death, join the NHS Organ Donor Register and tell your family you want to donate.
Research we fund
We fund research to tackle some of the most pressing issues in CF today. Find out how your donations are making a difference.
What is CF?
Cystic fibrosis, or CF, affects the lungs, digestive system and other organs, and there are over 10,600 people living with it in the UK.
Contact us
Get in touch with us to speak to someone on our Helpline, find out about an event or speak to our Press Team.