Clinical trials for young people
Find out how you can get involved in research if you are a young person with cystic fibrosis (CF).
Taking part in clinical trials isn't just for adults – teens, children and even babies can take part too. Parents will need to start the conversation about trials when you are younger. However, as you get older, it's common for young people to start showing an interest in the science behind developing new treatments. You may want to know what's going on, to get involved, and to feel part of the research that's driving the focus for a better future for CF care and treatments. You may choose to ask your CF team about trials that are suitable for you. And who knows – you may be selected for a trial that changes the future of CF treatment!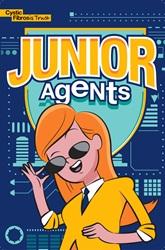 Young people with CF have also helped us create resources about taking part in clinical trials, specifically for children and teenagers. Jade, who is a member of our Youth Advisory Group, wrote and voiced our clinical trials video on this page, explaining how clinical trials work and how you could change the future of CF treatment. This video was commended at the British Medical Association's Patient Information Awards in 2019.
We also have a children's comic (3.35MB) to introduce the topic of trials to primary aged children and a leaflet for teenagers (752KB) to find out more. These are supported with 'Tips for Parents' leaflet (764KB) too. You can also order hard-copies of the comic and the parents' leaflet by completing this web-form. 
Interested? Get in touch with a member of our team to find out how you can get involved in clinical trials.
Talking trials
People with CF have been taking part in trials for years - there's a few here who, as teenagers, helped develop new treatments by trialing some of the medicines you probably take everyday, like Creon and DNase.
Lola took part in a trial when she was 15 - the medication she trialled became Kaftrio! 
Get involved
There are two ways you can get involved in clinical trials – through community involvement or participation:
Community involvement
Researchers and scientists have amazing ideas about how to make new medicines or treatments, but they don't know what it's like to live with cystic fibrosis. They don't know how you feel about taking a medicine, if it is difficult to fit into your day, or if it stops you doing the things you'd rather be doing like meeting friends, going to school or playing sport. When researchers plan their trial, they need to know if the plan works as well as the medicine and need young people's feedback. This is known as community involvement.
If you would like to help shape new treatments by sharing your thoughts and experiences of living with CF, please email our Involvement Manager, Lorna Allen, at involvement@cysticfibrosis.org.uk.
Participation
Participation is when you take part in a specific trial that you've talked to your CF Team about. Before you think about joining a trial, it's good to find out more about what trials are all about, why they happen and any questions you might want to ask. As every trial is different, you will have the chance to ask your CF team plenty of questions before taking part: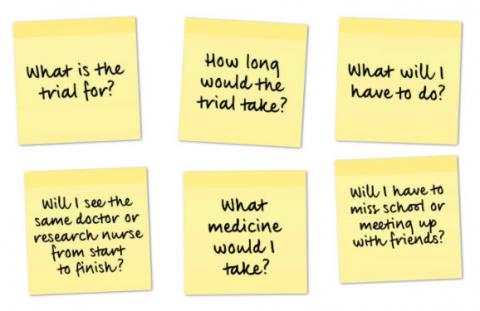 Asking questions about a trial and taking the time to think and discuss with your family and friends doesn't mean you have to take part. Even if you start a trial and then change your mind, you can leave the trial at any time. Taking part in trials will always be your choice.
Take a look at our Trials Tracker
We list all trials that are running in the UK on our Trials Tracker. Take a look to see what trials you may be interested in, how old you have to be to take part or if your CF centre is taking part in any trials.
Resources for young people
As a young person, you're not just a 'small adult'. Your body is still growing and developing and it's important to know how a medicine works for you. This is why it's so important for young people to know and understand about clinical trials. A lot of information has been put together to help young people understand more about clinical trials - even those not specific to cystic fibrosis:
Myth-busting research and clinical trials
Generation R is a National Young Persons' Advisory Group made up of local groups across the UK. Take a look at their video on clinical trial myth busters.
Making the right health research decisions
Explore some of the questions and issues that might be raised when a young person is invited to take part in clinical research in this video from the Nuffield Council on Bioethics and Mosaic Films.
Generation R
Generation R make lots of videos and games looking at research and clinical trials for all sorts of conditions, not just CF – here are some more that might be interesting to you:
So, could you change the future of CF treatments? Get in touch today to speak to someone in our team about how you can get involved in clinical trials.