CF Youth programme

If you're aged between 6 and 25 and have CF, or if you have brothers, sisters or a parent with the condition, then you're in the right place! Stay up to date with all our work for young people on Instagram @cftrustyouth.
Free online events
Join our fun online events
Building Brighter Futures is a programme of online social activities and workshops for 6–18-year-olds with cystic fibrosis, funded by BBC Children in Need. 
We run fun and exciting online events for children, so they can make friends, have fun and learn new skills.  From games nights, to free online workshops, to movie nights, we have something for everyone! 
Keep up to date with what's on at @CFTrustYouth on Twitter or get in touch with us at cfyouth@cysticfibrosis.org.uk. 
Youth Advisory Group (YAG)
Make a difference to the lives of young people with CF
YAG is a group of young people aged 14-25 who have CF, or have brothers, sisters or parents living with CF.
Find out more about YAG and see how you can influence work at the Trust and ensure that the voices of young people with CF are heard.
Resources and information
Get the information you need
Being a young person with CF isn't one size fits all.
That's why we've put together lots of useful information and resources for children and young people with CF and their friends and family.
Meet the youth team
If you come to one of our events you will almost definitely meet Bahar…
"I'm Bahar and I love video games, swimming, dancing, meeting new people, reading, and learning new things! I have two cats called Saffy and Sooty, who are adventurous, and constantly hungry.
"My favourite food is chocolate but I recently discovered the joys of eating instant noodles RAW… (send help)! 
"My favourite thing about my job is getting lovely feedback from young people and their parents about the positive difference our workshops and social activities have made for them!"
You might also meet Ellie, who manages the youth programme…
"I'm Ellie! Birds are my favourite animal. I feed the crows in the park and now every time I go there they follow me!
"If I had a superpower I would want to be able to fly. Maybe then I can chase the crows instead of them chasing me.
"My favourite thing about my job is meeting lots of awesome, hilarious and friendly children, and having fun with them at our events!"
You'll usually meet Cicely at one of our movie nights or leading a baking workshop!
"I'm Cicely and I have CF. My favourite animal is a sloth and I have a sphynx cat called Rupert!
"I like indie music and Disney. My hobbies include going to the gym, embroidery, going to the theatre (love musicals!), going out for food and seeing friends."
You'll meet Ryan at our games nights…
"I'm Ryan and I have CF. I have a passion for gaming and creating content for Twitch and YouTube. My favourite video game genre is first person shooters but I do love a good adventure game like Sea of Thieves.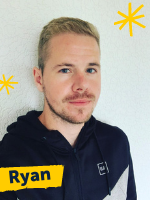 "I am also a big Star Wars fan. I've watched all of the movies, TV show series, read most of the books/comic books and collect the memorabilia. If I'm not too busy with my hobbies I like to keep fit by going for a run, using my exercise bike or playing football.
"My favourite thing to eat is Chinese food but my ultimate comfort food is a good old Pot Noodle."