5 ways your fundraising can make a difference this Wear Yellow Day
1. It can help our Helpline team support even more people in the CF community
Our Helpline answers over 4,000 enquiries every year – and the COVID-19 pandemic has led to a 22% increase in the number of people getting in touch. It is available to anyone looking for information or support with any aspect of cystic fibrosis, a listening ear, or just to talk things through. £1,500 could run our Helpline for a week, ensuring people with CF, and their friends and families, have somewhere to turn for information and support when they need it most.
"The Helpline team were amazing on the phone. As a very stressed mother seeking desperate help, they offered me guidance and reassurance, and really helped us to get through a tough situation."

CF mum
2. It can help scientists to develop new treatments for everyone with CF
Thanks to your incredible support this Wear Yellow Day, we're able to stay at the cutting edge of CF research, making ground-breaking discoveries that change lives for the better. £400 could pay for a day's worth of essential laboratory materials at our Strategic Research Centres, helping scientists to develop new treatments for everyone with CF, so that nobody in our community is left behind.
"Thanks to research, the world is looking so much brighter for people with cystic fibrosis. There have been so many advances in the time since my children were diagnosed; however, now is not the time to rest on our laurels. We need to harness the energy across the community and really push forward with supporting future research. This way we can make life with CF the best it can be." 

Zoe, mum to Alex and Isobel who have CF
3. It can help us continue to be there for people with CF and their families during periods of financial stress
The rising cost of living and the financial burden of living with a lifelong condition is an increasing worry for many people in the CF community. Your support this Wear Yellow Day means that we can continue to be there for people with CF and their families during these tough times, providing almost 1,000 grants over the past year. When Tom and Sarah, whose toddler, Annie, has CF, discovered that an error with their benefits had left them without enough money for food, we were able to provide an emergency grant so the family was able to afford the specific diet Annie relies on. £350 could fund one of our grants, helping ensure children with CF like Annie can access the essentials they need to stay well.
4. It can help us to empower a young person with CF to turn their passion into a dream career
Whether it's dog grooming or baking, scriptwriting or gaming, through our Helen Barrett Bright Ideas Award we provide people with CF with a grant to help boost their business idea and access expert support and guidance to turn their dreams into a reality. £1,000 could help a young person with CF follow their dreams and live the life they want to.
"I was so touched and grateful that the Trust would support me with my goals of becoming a writer. I'm going to use the award to put on a play and have it filmed, which will help me showcase my work and hopefully get an agent."

Lucy, previous winner of the Helen Barrett Bright Idea Award
5. It can help create a brighter future for everyone living with CF
Nobody chooses to live with cystic fibrosis. But for thousands of people, it is a daily reality.
CF comes with many challenges, affecting physical health, mental wellbeing and impacting everyday routines that many of us take for granted. But we believe the darkest days are behind us. We are determined to find life-changing treatments that work for everyone, so that no one in our community is left behind.
Your support this Wear Yellow Day can help create a brighter future for people living with CF like Kareem…
19-year-old Kareem had been experiencing CF symptoms since he was a baby but was only diagnosed at 14: "When I was diagnosed with CF, it turned my world upside down," he remembers.
He's grateful for the support the Trust has provided to him and his family in the toughest of times: "Cystic Fibrosis Trust have been there for my family from the start," he says. "The Trust have been an amazing advocate for us when everything was so new and scary."
With our help, he's been able to live his best life and stay positive: "I'm determined to not let CF limit anything I want to do in my life. I want to live life to the fullest and show other young people that CF doesn't have to define you."
---
Cystic fibrosis (CF) is a genetic condition which causes sticky mucus to build up in the lungs and digestive system. It affects more than 10,800 people in the UK. One in 25 of us carries the faulty gene that causes it, usually without knowing. 
Since 1964, we've supported people with cystic fibrosis to live longer, healthier lives - and we won't stop until everyone can live without limits imposed by CF. 
Will you unite with us this CF Week?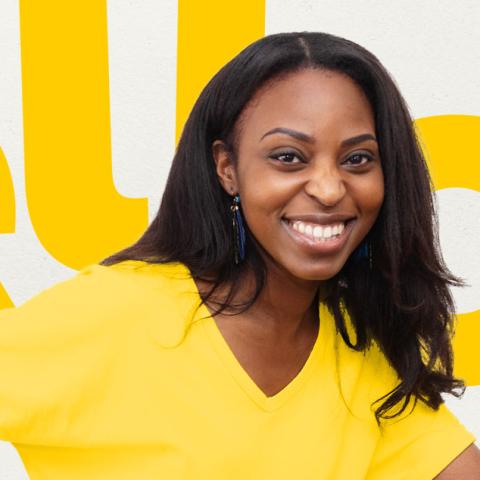 Wear Yellow Day
Unite with us on Friday 17 June, Wear Yellow and raise money to help create a brighter future for people living with cystic fibrosis. Dress up, bake or take on a physical challenge, but whatever you do… do it in yellow!