A lesson in discrimination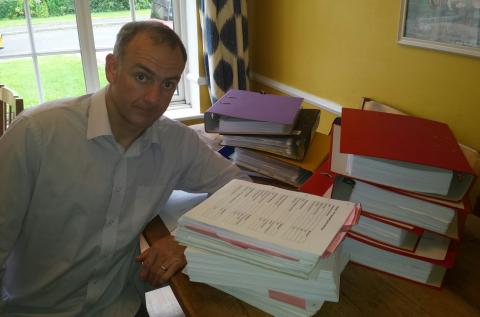 Philip Grosset, who has cystic fibrosis, was been awarded £180,000 after being fired from the Joseph Rowntree School in York. As reported in the most recent issue of the Cystic Fibrosis Trust's magazine CF Life, a judge found the school guilty of "serious and substantial acts of discrimination". The former Head of English is expected to be compensated further for his loss of pension, and the senior leadership team and governors of the school have been ordered to undergo training in disability in the workplace.
Philip's problems started in 2013 with the arrival of a new head teacher at the Joseph Rowntree School. Philip's workload was increased, the reasonable adjustment's he'd been given in the past stopped, and consequently he was unable to keep on top of his workload. Crucially, his treatments suffered, and his health plummeted.
After months of stress, a small error cost Philip his job. After mistakenly showing his Year 11 students a film with a rating too high for their age group, Philip was taken through months of investigations and was finally fired for the offence.
Philip fought back and took the school to an employment tribunal; the results were damning. The dismissal was found to have been discriminatory and unlawful, and the tribunal found that Philip's initial mistake shouldn't have warranted more than a verbal warning, and wouldn't have happened if the school hadn't put him under so much stress.
Philip, who now has a new job with a supportive employer, said: "I hope this will finally make the school reflect on what they have done, and make it less likely this will happen again. I'll never get my full health back, or my teaching career, or those lost difficult years where I should have been enjoying time with my family. However, I will get my pride back and the chance to rebuild my life."
Nick Medhurst, Head of Policy at the Cystic Fibrosis Trust, said: "It is reassuring to see that the stress and damage to Philip's health caused by this discrimination have been recognised in this judgement. However, this situation, which has led to years of worry for Philip, could have been avoided if his employers had made the adjustments he needed to support him at work.
"Ignorance of CF is improving, but Philip's case shows that there is still a long way to go. We are working hard to raise awareness and provide support for people living with cystic fibrosis through information and support and our policy and campaigning work, with the hope that one day incidents like this will be a thing of the past."
We asked Philip what advice he would give to employers and employees to help make sure what happened to him doesn't happen to other people. Take a look at what he had to say...
Get advice on working with CF, and find out all about your rights in the workplace. If you feel you may be being discriminated against at work, you can contact the ACAS helpline for advice. You can read Philip's first story in the September issue of CF Life.