Meet Team CF: Tom runs for his Valentine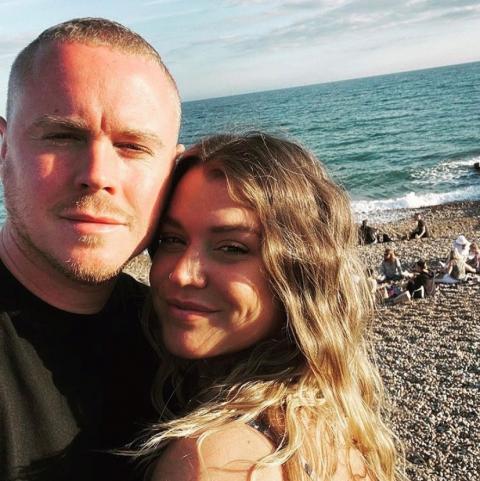 My girlfriend Emma was diagnosed with cystic fibrosis (CF) when she was three months old. Living with her over the last year has given me an insight into her daily struggles. We take the everyday things for granted: we wake up in the morning, we get changed, we go to work; whereas she has to get up and do an hour of physio before she even gets out of bed in the morning. At night, we might choose to go out for a drink and then come back and go to bed; she has to do another hour of physio, just so she can function.
Seeing how the latest treatments have helped make her life more comfortable was the driver for me wanting to raise money for the Cystic Fibrosis Trust, so more advances in treatment can be made. So, when the Trust announced their virtual Running Festival back in September, I signed up.
Getting the running bug during lockdown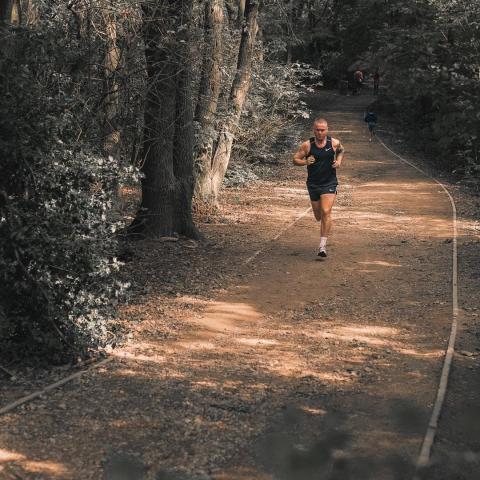 I got hooked on running after I was nominated for the NHS 5K run challenge in the lockdown last spring. Straight away, I just got the bug for it. It transformed very quickly from wanting to beat my 5k time to wanting to beat my 10k, my 15k… all of a sudden, I was running half marathons. It felt like the next challenge after that was to do a full marathon, which was when I signed up for the Team CF Running Festival.
Emma was both surprised and shocked when I signed up. I think a marathon to all those who haven't run one (including myself at the time) is the ultimate physical challenge, so she had no doubts of my undeniable love and adoration for her… not that she did before!
The Running Festival gave me a purpose to my runs and an end-goal to reach – in my case, a full marathon. Instantly being hooked on the relief that running gave me, as well as my inner competitiveness to improve on speed and distance, helped to keep me motivated. For longer runs, I kept a fully-charged phone, earphones and a podcast or audiobook on me – I had Ant Middleton pushing me all the way! Emma was a great support throughout, as she could see how much I enjoyed running. Her pride in me was my ultimate inspiration.
A euphoric sense of achievement
I think the more personal the cause you are running for, the harder you work on the fundraising. I use the word 'work' as I took it on as a job to train, raise awareness and fundraise as much as I could.
The response I received from friends, acquaintances and colleagues in the build up to the run was outstanding! In the lead up, during the run and once I'd finished, my phone lit up like a Christmas tree with calls and texts encouraging and congratulating me. At the finishing line, I met Emma and her mum – the looks on their faces really gave me the sense of magnitude of what I had just achieved. Calls with my parents telling me how proud they were made the accomplishment feel even more real.
I absolutely loved the experience; the feeling after was euphoric and I can't wait to do it again!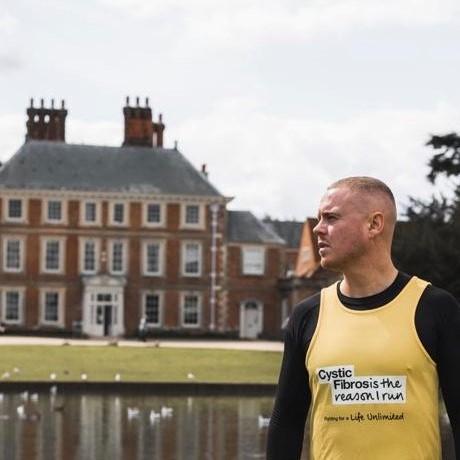 Creating a much-needed difference
If you're thinking about joining the Team CF Running Festival, know that no distance is too short or long. Whether it's a 5K or a full marathon, do what you can, as any effort or support towards the Cystic Fibrosis Trust is always needed and appreciated.
I'm forever grateful for the support, and it's given me the incentive to go on and keep raising more money to fight cystic fibrosis. The difference in Emma's quality of life thanks to the new treatments has just shown me how important improvements in CF care are. We must continue to make more improvements like this, so everyone with CF can benefit.
Inspired by Tom's story? The Team CF Running Festival returns in April, and registrations are now open! Visit our events page to sign up or find out more.