Providing information to help people with CF find balance
The challenge of balancing day-to-day life, and all that entails, with the demands of CF, is something we hear about all the time through our helpline. It's something that is unique to everyone we speak to – everyone's treatment is different, everyone's lives are different, and everyone has a different relationship with CF itself. This relationship changes with age, different life events, and mental and physical health.
One of the key principles in providing information and support to the CF community is that we don't judge. Everyone's feelings and experiences are valid, so we listen carefully, and aim to provide information, advice and services to meet the needs of each individual. We want to support people with CF to live the lives they want, whatever that means for them – whether it's focusing on their health, ensuring the demands of CF don't hold them back from a certain career path or being able to spend quality time with loved ones (or a combination of all these things!)
One thing we cannot do however is provide medical advice or counselling – we would always signpost people to their CF teams or other sources of support to meet these needs.
Support for every stage of life
When the Trust was founded, CF was a 'childhood condition', with very few living beyond the age of 10. Today we are fortunate enough to see a very different picture, and as well as our work to beat CF for good, our fight for a life unlimited by CF means providing support for whatever life may bring.
Young people with CF face the challenge of balancing their CF treatment with school and exam pressures, their social lives and the need to explore the world and their place in it. We all know that the teenage years can be tough, and it's a time when young people are also expected to take more responsibility for their CF care and treatment for the first time.
Health can decline during adolescence; this is why we're running a dedicated youth programme to engage and empower young people with CF at this critical time of their lives with the skills they need to manage their condition. It also lets them take part in fun activities and it helps tackle isolation by providing opportunities to 'meet' other young people with CF in a safe online space.
Access to high-quality information is key to helping people manage other aspects of their lives and weigh up pros and cons to make informed decisions that are right for them. For example, our information pack on starting a family provides detailed information on genetics, fertility issues, fertility treatment and honest advice from parents with CF about the challenges of having a family when living with a condition such as cystic fibrosis. The booklet includes stories of couples who had decided to start a family and of those who didn't feel it was the right choice for them. The pack, which was also reviewed by CF doctors specialising in fertility, remains one of our most popular information resources.
We also often hear from people with CF who are considering how to balance employment with a demanding treatment regime. Recent research we conducted suggested that around a quarter of people with CF feel the condition directly affects their work life. What this means really varies – we may hear from someone who wants to discuss flexible or home-working with their employer, or who needs to reduce their hours to have more time for their health, or someone who has landed their dream job and wants to know how to explain CF to their new employer.
In all these cases, it's important for us to empower people with CF with information about their rights, so we provide detailed information on our website as a starting point. Our Welfare & Rights Advisor can support people with CF to explore what benefits and financial support they may be entitled to, to help with decisions about balancing working hours (and therefore income) with cystic fibrosis.
Adapting our support to meet the challenges of COVID-19
The COVID-19 pandemic has of course brought significant new challenges to all of our lives, and we know through our helpline and social media how much it has impacted people affected by cystic fibrosis. The challenges faced by the CF community have been profound, and we have had to regularly adapt and update the information and support we're providing, to keep up with a rapidly evolving situation.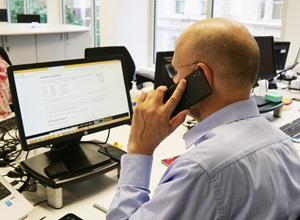 There has been significant extra demand for our information and support services, and we've had to alter the ways we provide support to meet this demand. This has included increasing staffing on our helpline (which is usually run by two part time staff members) and creating a dedicated area of our website to provide information on all aspects of coronavirus, from CF care to shielding, face masks to employment and financial support. Throughout this crisis, we've worked closely with CF healthcare professionals and the UK CF Medical Association, to ensure the information and guidance we offer is sound.
We've been hugely concerned to hear of the health of people with CF suffering during shielding, from not getting enough exercise, or not being able to purchase the high-fat foods they need, to the impact on their mental health, and this has directly informed the nature of the support we offer. This includes creating a dedicated emergency grant to allow people to purchase exercise equipment to use at home while shielding, helping them stay healthy and active.
We've also adapted our welfare grants programme to ensure we can do more for the many people who have found themselves in financial need as a direct consequence of the pandemic. We now process welfare grant applications twice weekly (instead of weekly) to ensure funds reach the recipients as quickly as possible.
Information on the issues that matter to you
While much of our work has focused on dealing with the impact of COVID-19, we have also continued to work on the other issues we know are of the utmost importance to you – particularly speeding up access to precision medicines such as Trikafta – and planning for how the needs of the CF community are likely to change in the future.
In this time of uncertainty, one thing is guaranteed – that we're committed to doing all we can to carry on supporting people with CF and their families as best we can, through this current crisis and beyond.
We are facing a substantial drop in our fundraising income, at a time when we're seeing an enormous increase in demand for our services, such as our helpline. Please consider making a donation to help us continue our work to support people with CF.