Sailing stars seize the day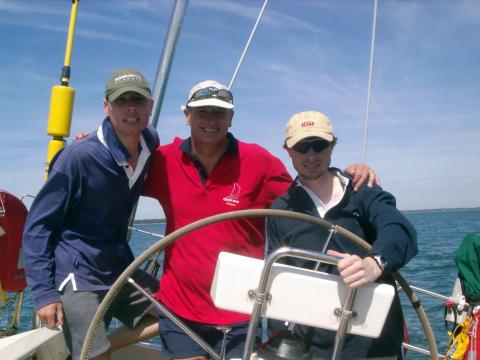 Cliff Goodwin and his dad Michael Goodwin, from Stone in Staffordshire, are heading to the Isle of Wight on 1 July this year to take part in the iconic Round the Island Race. Named after the yacht they will be sailing, 'Team Antara' is inspired to raise money for the Trust after Daniel, who is Cliff's brother and Michael's son, died this April after a battle with cystic fibrosis (CF).
The inspiration - Daniel Goodwin
Daniel was an active member of the CF community, running marathons and fundraising for the Trust throughout his life. He also suggested the name for Coughy Break, a new feature in the Trust's CF Life magazine.
Daniel's wife, Jess, remembered him on his in-memory Just Giving page: "There is so much less sunshine and laughter in the world, but I couldn't have selfishly wished another moment of suffering on the best human I could ever wished to have shared my love and life with. We had eleven years of pure joy, life and quality. Dan was more loved than anyone I know and so many people will be torn apart by this."
Flying the flag
Last September, Michael and his friend Roger Colmer completed their epic two-year sail around the UK coast, raising an incredible £25,000 for the Trust in the process.
Cliff spoke about his decision to undertake this year's Round the Island Race: "Dan loved sailing with me and my dad until his health prevented him. We are undertaking this challenge and hope to raise valuable funds for the Trust. This will be a hard challenge, make no mistake. If people can help us defeat this dreadful disease that would be brilliant, we want to smash our target of £1,500!"
Michael added: "We are hoping for fine weather and a great race as we fly the flag for the Trust. The war against CF must be won, and this race is our place in the front line - raising funds to develop a cure. We hope to beat our previous best finish in the top 25% of the fleet. Anyone following us can visit the race website and see the position of Antara and her track as the race takes place. Many thanks to all of our sponsors."
The race, which starts at 5.30am on 1 July, begins at Cowes on the northern tip of the Isle of Wight and takes an anticlockwise course around its picturesque coastline. The one-day annual yachting extravaganza has upwards of 1,500 yachts and 12,000 sailors competing, and its course has a total distance of 50 nautical miles, or nearly 100km.
Find out more about support if you are experiencing bereavement, or discover the different ways you can raise funds in memory of your loved one or create a tribute page.