The COVID-19 vaccine and CF
Today we welcomed the news that the Medicines and Healthcare products Regulatory Agency (MHRA) has approved the Pfizer/BioNTech COVID-19 vaccine for use in the UK, the first country to give approval for a vaccine.
It is vital that people with CF get the vaccine as soon as possible to keep them safe and offer the chance to return to something like a normal life, but we have heard an understandable degree of hesitancy among some people about the vaccine and how quickly this has all happened.
When can people with CF get the COVID-19 vaccine?
People with CF have been moved from priority group six to priority group four. This is good news, however it is important to realise that the groups won't be totally sequential and it is likely that the difference in time between a person in the first group being offered the vaccine and a person in the later groups may only be a few weeks. There is still some uncertainty about timing because we do not yet know how quickly the vaccines will be manufactured and which other vaccines will receive regulatory approval and when.
Will children with CF be able to get the vaccine? If not, why?
The first wave of vaccination will not include children because the initial studies and applications for regulatory approval included adults. The Pfizer study included some children over the age of 12 years. It is common practice to establish safety and efficacy in adults before trialling and authorising new medicines and vaccines in children.
Some experts think it may be several months before children will be able to benefit from an effective vaccination; hopefully before the next school year begins in September 2021.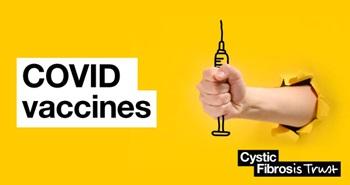 Why are people with CF not higher on the priority list?
Age is the most important predictor of outcome of COVID-19. Therefore, it is important to initially protect those who are most vulnerable (the elderly) and most exposed (health care workers) to the virus. This will protect the NHS by reducing the number of hospital admissions and the number of staff off sick or having to quarantine.
COVID-19 can be a serious illness in all age groups including in some people with cystic fibrosis. The increased risk to some people with CF has been recognised by including them in a priority group equivalent to people aged 70 years.
What about people with CF following a solid organ transplant?
People with CF who have had a solid organ transplant (liver, lung, heart or kidney) are likely to be immunocompromised due to medicines needed to stop rejection. This may mean they have a suboptimal response to the vaccine but, guided by their clinicians, people who have had solid organ transplants should still be vaccinated.
Will family members of people with CF be prioritised for the vaccine?
At the moment adult carers are prioritised into priority group six. This is defined as people who receive Carers Allowance or otherwise are a primary carer for someone who is elderly or disabled. Any other household members are not a priority group at the moment. However, evidence is being gathered, so this could change. It is important to realise that the priority groups won't be totally sequential and it is likely that the difference between a person in the first group being offered the vaccine and a person in the last group may only be a few weeks.
Is the COVID-19 vaccine safe?
There has been a well-funded and unprecedented worldwide effort to develop a safe and effective vaccine for COVID-19. Many of the very time-consuming steps in vaccine development such as applying for grants to do the research have been bypassed because of government funding. The scientific community was also well prepared to get a flying start because of recent experience with infections such as SARS (also a coronavirus) and Ebola virus, and due to very relevant recent scientific developments. The regulatory authorities are independent and apply the same rules when assessing the safety and effectiveness to every other new immunisation.
Find out more about the safety of the vaccine from MHRA here.
Why do people with CF need priority access to the vaccine?
It is correct that people with CF don't appear to be as vulnerable to COVID-19 as we first thought, however it can still be a serious illness in some people with CF and the numbers of people with CF who have acquired COVID-19 around the world is still relatively small. It makes sense to protect people with a chronic respiratory illness from a respiratory virus.
If you have any concerns around COVID-19, check out our coronavirus hub for information, or contact our Helpline.