Top research talent Sara scores top prize at UKCFC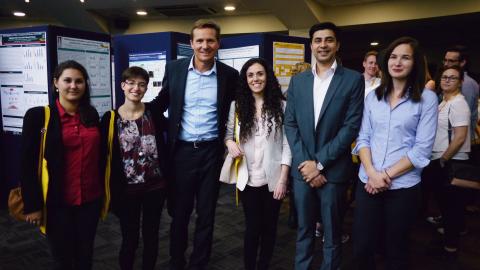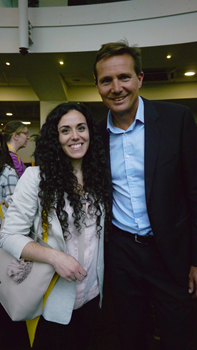 This year's CF's Got Talent! which took place at the end of day one of the UK Cystic Fibrosis Conference, saw five budding researchers, who all work on Trust-funded Strategic Research Centres (SRCs), presented their work. The event was hosted by ex-Olympic athlete and Trust supporter Roger Black MBE (pictured with Sara) and the winner was voted for by an online audience.
Sara's research 
Sara presented on her research, which is investigating producing CF stem cells by introducing a CF-causing mutation into healthy stem cells using molecular scissors. This research is taking her closer to her goal of producing CF lung cells for use in research without the need of any patient material, removing the burden of supplying these cells from people with cystic fibrosis.
Sara completed a master's degree in 'Research and Advances in Molecular and Cellular Immunology' at the University of Granada, where she learnt about programmable nucleases (molecular scissors). She then began her PhD at Newcastle University with the goal of producing a new system of lung cells that could be used for more efficient CF drug discovery.
Speeding up CF drug discovery
When asked how she felt about winning CF's Got Talent, Sara said:
"When I first attended this conference in 2015, I was very inspired by the effort that scientists, care teams, fundraisers and people with CF are putting into the fight against cystic fibrosis. Therefore, I was very grateful for the invitation to present my work at this year's CF's Got Talent! event. Winning this competition was a boost to my confidence as a researcher and I was very pleased that people at home enjoyed my talk. I am looking forward to achieving my main goal: the production of CF lung cells without using any material from people with CF, and I really hope that our work on INOVCF can help speed-up the CF drug discovery process for every person with cystic fibrosis".
Dr Michael Gray leads the "INOVCF" SRC, and when he was asked how he felt about one of the researchers on his team winning CF's Got Talent, said: "Sara did extremely well to win this competition because all the talks were of such a high standard. It was a great opportunity for her to tell the wider CF community about her research, which she is so passionate about. She did a great job of explaining the science behind the work and we are all proud of her in the INOVCF group, especially as Madalena won it last year!"
Last year's winner
Last year's CF's Got Talent! was won by Madalena Pinto, who is also working on the INOVCF SRC led by Dr Michael Gray, and will be attending the North American Cystic Fibrosis Conference early next month. We caught up with her at this year's UKCFC, and asked her how she felt about winning CF's Got Talent! last year.
She said: "I am greatly inspired by the people I met along the way, the proactive attitude of the researchers, people with CF and their families. Being a part of the CF community, and seeing my work recognized last year was one of the highlights of my career and was personally very rewarding. I am very grateful for this experience and I can't wait to see what we accomplish in the future, together!"
You can read more about Sara's work and the other CF's Got Talent contestants, or make a donation today to help us to continue funding ground-breaking research like this.