Trust's Trials Accelerator keeps the focus on participants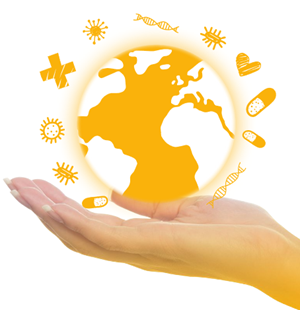 What the Trust is doing to support CF clinical trials
Launched in 2017, the Clinical Trials Accelerator Platform is a UK-wide initiative bringing together cystic fibrosis (CF) centres to support the CF community access and participate in CF clinical trials.
Since launching, we have brought together 44 CF centres across the UK, funded a national team of 20 dedicated CF Trial Coordinators and created a wealth of information about taking part in clinical trials. Through the programme, we enable direct conversations between representatives from the CF community and pharmaceutical companies to support the design of CF trials. We also engage with these companies to showcase the UK as a desirable country to invest in CF clinical trials, bringing more trials to the UK CF community than ever before and helping us ensure the UK is at the forefront of global efforts to develop life-changing new therapies for people with cystic fibrosis.
Why is the Trials Accelerator needed?
Clinical trials are the crucial step in between new medicines being developed in the lab and becoming available for prescription by a doctor. They are the only way to evaluate whether a new treatment is both safe and effective for use in people. Without clinical trials, none of the medications available today – including those for CF – would be available.
Prior to the Trials Accelerator, the UK lacked dedicated infrastructure and resources to support a large number and variety of CF clinical trials. Delivery of trials was mostly dependent on a few CF centres with a finite amount of resources, limiting the number of trials that could run in the UK. This also meant a lot of people with CF were missing out on opportunities to take part.
The Trials Accelerator has enabled more CF centres to run a wider breadth of clinical trials, offering more people with CF the opportunity to take part. So far, the initiative has supported over 600 people with CF (children and adults) to take part in a clinical trial.
How the Trials Accelerator aligns with the NIHR's recommendations
The NIHR is the UK's largest funder of health and care research, providing the staff, facilities, and technology required to enable research to thrive. The NIHR's Centre of Engagement and Dissemination works to ensure research is shaped in partnership with the people it serves to benefit, making sure clinical trials are 'patient-focused', relevant and produce results which are truly beneficial.
Jeremy Taylor, Director for Public Voice at the Centre of Engagement and Dissemination, recently outlined a set of recommendations for improving the experience of those participating in clinical trials. We were really pleased to see that the recommendations listed align with our existing objectives of the Trials Accelerator. Here, we highlight a few of them:
1. NIHR: Meaningful patient and public involvement is an integral feature of good trial design and there should be a stronger emphasis on this happening at the earliest stages.
Trials Accelerator: The Trials Accelerator is a champion for 'patient and public involvement' (PPI), something we refer to as 'Community Involvement' . We have created a network of over 50 CF representatives (people with CF and parents of people with CF), to represent the needs and perspective of the community when feeding back to pharmaceutical companies about trial design. We proactively work with companies to encourage regular engagement with our Involvement groups from the very earliest stages possible, when there is the most flexibility to modify a trial design to ensure it will be as positive and easy to take part in as possible for trial participants.
2. NIHR: Many patients and members of the public are unaware of opportunities to take part in trials. Now is an opportune time to raise awareness.
Trials Accelerator: Each of the 20 CF Trial Coordinators funded by the Trials Accelerator are responsible for letting their local CF community know about relevant clinical trial opportunities. Collectively the team cover just over 80% of the UK CF population. All members of the CF community can keep up-to-date with trial opportunities by using our CF Trials Tracker (via our Clinical Trials Hub), which lists all new and open CF clinical trials taking place around the UK and a contact form to complete for those who wish to find out more about the trial.
3. NIHR: Enrolling people into trials requires good communication. People value clear and understandable information about the trial's purpose and conduct, the risks and benefits, and their role as a participant. Information needs to be appropriate and proportionate. Jargon-filled and lengthy, complicated patient information sheets are not welcome.
Trials Accelerator: Our Community Involvement workstream creates opportunities for representatives from the CF community to review draft information that will be given to potential trial participants. This ensures trial information intended for potential trial participants is easy to read and understand, and that it's relevant and age-appropriate.
4. NIHR: Taking part in trials imposes physical, practical and emotional burdens on participants (and, often, their families), especially if they are also patients. Good trial design is vital for minimising this. Not all researchers think hard enough about this, meaning participants can be subjected to unnecessary tests, surveys, procedures and clinic visits. Good trial design is also key to successfully recruiting participants and enabling them to stay in the trial.
Trials Accelerator: All CF trials supported by the Trials Accelerator undergo a robust review by an expert committee made up of CF clinicians and representatives from the CF community. The trial design and study schedule (the procedures required throughout the trial) are critiqued, and comments are fed back to the pharmaceutical company. Part of the review includes ensuring there are no unnecessary tests asked of participants, as well as checking that taking the trial medication is practical and fits around work, school and pre-existing daily treatment regimes. Only CF trials deemed to be of good trial design and relevance to the CF community are accepted to run within the Trials Accelerator network.
5. NIHR: Participants are most likely to have a positive experience in a relationship of trust with the research team. Good quality information, communication and person-centred care, support and attention are key ingredients throughout the trial.
Trials Accelerator: Our CF Trial Coordinators act as a point of contact for the CF community about taking part in clinical trials. They build and foster relationships with their patient and family community, making it easy for those interested in trials to talk to them about which opportunities may be most suitable for them and what participation may involve. They support the patient and family through every step of trial participation and become a familiar member of the patient's wider care team.
Our CF clinical trials information booklet and associated leaflets for children and teenagers have been created as a first-step introduction to the CF community about taking part in trials. They are designed to help families learn more about trials and provide them with the information they need to make informed choices about taking part.
5. NIHR: Participants must be informed of trial results. It is a discourtesy, if not an abuse of people's goodwill, and is likely to deter them from further participation in trials. Participants need to know what contribution they have made and the implications for their personal health (that may require regular updates during the trial) and they need to be thanked.
Trials Accelerator: We strongly encourage pharmaceutical companies to recognise the time and commitment participants give to trials by ensuring they know how their efforts contributed to progress. Furthermore, by involving our CF community in the writing and review of results summaries, companies can make these more meaningful to their audience.

Our CF Trials Tracker lists all CF trials that are open, or soon to open, as well as trials which have now closed. We aim to use this database as a tool to support dissemination of clinical trial results, which we will do by publishing a short, simple summary of the trial results along with a link to the full results on the relevant trial profile page. We will then alert our network of CF Trial Coordinators of the results and request they send a link of the results summary to any participants of the trial at their centre. We will also share newly listed results via the Trust's social media channels.
The Trials Accelerator is a constantly evolving and expanding programme. Although CF specific, we collaborate with other disease-specific clinical trial networks as well as national organisations such as the NIHR, to ensure best practice is shared with those working towards the common goal of speeding up the development of transformational therapies.
To learn more about CF clinical trials, please visit our Clinical Trials Hub. You can also read the full article by Jeremy Taylor on the NIHR's blog.