UK CF data shows drop in Pseudomonas and need for IVs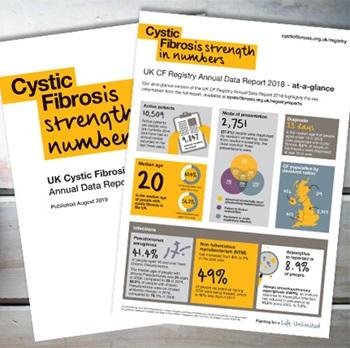 Alongside the drop in Pseudomonas rates, people with CF are staying free from chronic infection for longer, developing chronic infection at an older age. In addition, the targets for the number of people with the bacteria receiving inhaled antibiotics are being met in children (90%) and nearly met in adults (89%).
The median predicted survival age for men is now 51 years, the first time that this figure has been over 50. While the median predicted survival age for women has grown to 44.1, it is 6.9 years lower than the predicted age for men, presenting a growing divide between men and women with cystic fibrosis.
While the average age of death increased by one year in 2018, it shows that half of people with CF who died in 2018 were just 32 years old, or younger.  The latest edition of the annual report also sees a number of new features, including a population pyramid that illustrates the increasing adult CF population over time, and a genotype map of the UK.
Rebecca Cosgriff, Director of Data & Quality Improvement at the Cystic Fibrosis Trust, which maintains the Registry, said: "The UK CF Registry is a vital tool both for snapshots of the picture of health for people with CF in the UK today and to discern emerging trends and patterns. None of this would be possible without the more than 99% of the UK CF population consenting to share their data to support breakthroughs in research and the highest quality of care. 
"This year the UK was the first CF patient registry in the world to report its data for 2018. This is a testament to the dedication of CF teams across the country."
Get the full story with the full 2018 Registry report or the key findings in the at-a-glance report.