Our funding process and governance
Research funding applications to the Cystic Fibrosis Trust must address their relevance to our research strategy and meet our SCORE objectives for funding. Funding decisions are made following peer review and with the guidance of our Research Grants Review Committee. 
Peer review
Funding decisions on applications are made following a rigorous peer review. Peer review is a way of assessing the quality of scientific ideas. Our processes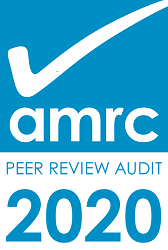 meet the Association of Medical Research Charities five principles of peer review.
Funding decisions on Strategic Research Centre (SRC) applications are made following a rigorous peer review by external scientists and clinicians before being considered by our Research Grants Review Committee (RGRC), which recommends applications for funding.
We agree Venture and Innovation Award (VIA) funding in principle prior to submission of external funding body applications. The VIA programme relies on the science being peer reviewed by the external funding body. This means we can only consider applications where this peer review will take place. For industry awards, we request evidence of internal review prior to awarding funding. 
Summer studentships are not subjected to external peer review.
SCORE objectives
Recommendations for funding will be judged on how well applications meet the five principles that guide our approach – our 'SCORE' objectives:
Strategic – We will lead on the basis of clear priorities, actions and goals.
Collaborative – We will leverage income and attract other funding agencies to work in partnership to maximise funding opportunities.
Outcome-focused – We will be mission-driven, strategic in allocating resources, and results-oriented.
Risk-based – We will pursue a balanced and diverse portfolio of research of varying risks: high risk vs lower risk and basic vs applied science, that benefits all people with cystic fibrosis.
Excellence-driven – We will be driven by quality and harness expertise wherever we find it.
Our Research Grants Review Committee
Our Research Grants Review Committee (RGRC) is an independent committee that reports to the Board of Trustees, making recommendations and providing guidance regarding the implementation of the Trust's research strategy. This includes making recommendations for funding and reviewing progress of ongoing grants.
Members of RGRC are invited from a range of backgrounds including biomedical lab-based science, clinicians and representatives of the CF community.
Research we fund
We fund research to tackle some of the most pressing issues in CF today. Find out how your donations are making a difference.
What is CF?
Cystic fibrosis, or CF, affects the lungs, digestive system and other organs, and there are over 10,600 people living with it in the UK.
Contact us
Get in touch with us to speak to someone on our Helpline, find out about an event or speak to our Press Team.