Christmas shop

Your purchases make a real difference to support our fight for a life unlimited for those affected by cystic fibrosis (CF).
Last year, Christmas sales and donations raised an incredible £30,000, helping to fund ground-breaking research to develop improved treatments and fight dangerous infections, support vital campaigning, and provide dedicated information and support to all those affected by cystic fibrosis.
This year, we need your support more than ever. We've been working extremely hard to be there for as many people as possible during the coronavirus (COVID-19) crisis, which comes at a time when we are facing a substantial drop in our fundraising income. By supporting us through our Christmas shop, you will be helping us continue to work towards a better life for everyone with cystic fibrosis.
Buying Christmas cards or gifts online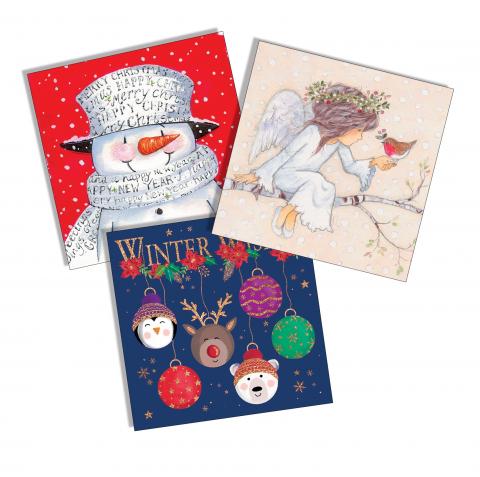 During the current COVID-19 crisis, please consider ordering your cards and gifts online where possible, as this will help us process your orders more quickly. We recommend buying your cards and gifts early to ensure your items arrive in time for the holiday season. We will do our best to have your orders fulfilled on time but in the event of a further lockdown deliveries may be delayed; if this happens, please keep an eye on this page for further updates.
Due to COVID-19 and the impact of lockdown working practices, we have not been able to run our annual children's Christmas card competition for 2020. We hope this is the only year we have to do this, and we will update you when we reopen the competition for future Christmas seasons.
Christmas Catalogue mailing issue
Unfortunately, we made an error during the mailing of the Trust's 2020 Christmas Catalogue, which was accidentally posted out to a number of people who had told us they didn't want to receive mail from us.
We sincerely apologise for this mistake, and for failing to respect your wishes. We considered writing to everyone affected to apologise, but opted not to do so to avoid intruding on your privacy any further.
Under data protection rules, the Trust is able to send 'marketing communications' by post to you if you have supported us recently. This could include sending information about our work, developments in CF, or fundraising opportunities, such as our Christmas Catalogue. We do not contact you by post if you tell us you don't want to receive it, or if you are a member of the Mailing or Fundraising Preference Services.
We are following up the issues that led to this error and we are undertaking a full review of mailing processes to put in place new measures to prevent this from happening again.
More about Christmas cards from the Cystic Fibrosis Trust, printed by Impress Publishing