Bloggers and vloggers and a Motorsports Engineer, oh my!
The Bright Ideas Awards were set up in memory of entrepreneur Helen Barrett, who had cystic fibrosis (CF) and set up a gym that is still running today. Sadly, Helen died before her 32nd birthday, but the awards were set up to honour her memory and enable other people with CF to follow their dreams.
Take a look at this year's winners!
The awards are open to people with CF aged 16 or over, and winners are awarded a grant of up to £1,000 and business mentoring to help support them in a creative or professional venture. Previous winners include jewellery-maker Polly, Emilia who has a textiles business, and actor and vlogger Charles Michael Duke.
The lucky 13
This year's awards saw a huge variety of innovative applicants, and winners include a Motorsports Engineer, wedding stationery creator, manager of a chef recruitment agency, and a number of artists, bloggers and vloggers. Kate Hughes, one of this year's winners, was interviewed by the Trust last year about her exhibition, 'Island Collaborations' which was produced by the Royal Brompton & Harefield Hospitals Charity and exhibited at the Royal Brompton Hospital. Ciara Hillyer, another winner, was featured in the Trust's CF-related diabetes SRC video and has her own popular YouTube channel.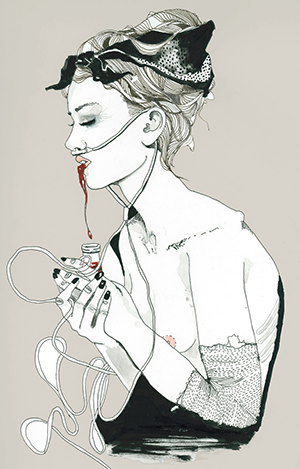 "A great boost of confidence"
26-year-old artist Poppy, who has a background in fashion design, won a Bright Ideas Award last year that she used to start selling her eye-catching artwork (right). Poppy was featured in the Autumn 2016 issue of the Trust's new-look magazine CF Life, where she spoke about the inspiration behind her art.
Poppy said: "I was thrilled to receive my Bright Ideas Award in 2016. It enabled me to buy all the relevant equipment and materials to start a creative business venture of my own. It gave me a great boost of confidence as I was nine months post-transplant when I heard the news. The money provided the tools for an active and creative future that I continue to improve each week. I would encourage everyone to enter the Bright Ideas Awards if you have a creative idea that you need support to get off the ground!"
Hear from this year's winners and find out more about the Helen Barrett Bright Ideas Awards. Applications for the 2018 awards will open at the end of this year.